5 SOUTH AFRICAN INFANTRY BATTALION 1976

CHARLIE COMPANY

ARMED FORCES, December 1976, p 14-17.

Dear Editor,

When last did you visit 5 S.A.I. in Ladysmith? I can guarantee you if you visited us for 2 days you'd have enough information to write a whole book.

We are South Africa's elite Infantry Batallion, and that can be proved. Take for example the C Company, when they walk around the camp in their spare time (although they don't get much, they're too busy training) the other companies run away and hide.

So Mr. Editor, if you want a good story for your magazine 'Armed Forces', come around to 5 S.A.I. and you won't believe how much one can learn in a day. I'll be looking out for you.

ANON,

(I might get pole P.T. if I mention my name.)

A Section Leader asks a question during field exercises.

The scrubbing brush has always been the smart soldier's friend.

Sweet tooth.

Many military formations may think that they are good. But there cannot be too many that would have a Rifleman amongst their members who would take the time and trouble to write a letter such as we carry in the box on this page, unless they are highly motivated and have a high standard of morale.

A Rifleman from Swellendam takes the chance to cool-off. At Ladysmith even clothes washing can be hot work.

After receiving the letter, arrangements were made to pay a visit to C Company 5 South African Infantry to let them have the opportunity of proving their claim. Charlie Company is a normal Infantry Company, that was completing its training before leaving for the operational area and I was able to `join up' with them for a few days to see how they worked, talked and played (although there was not much of the latter).

Ready, Able and Willing. One of the Platoon leaders of Charlie Company with his Platoon.

'Anon'. The writer of the letter who comes from Johannesburg. 'Anon' whose father was a pilot in the Royal Air Force is the only Jewish member of Charlie Company; he has volunteered for an extended period of Military Service. On arrival at Ladysmith the letter writer could not be found for 'Anon' was missing from the Company parade as he was playing cricket for his Battalion. Incidently, there was no 'pole P. T.' but there was an extra pass for an evening to eat out in Ladysmith.

Basically, this Company is made up of men who are doing a 12 month period of training but at this early stage they are already finding a high percentage of men who are volunteering for the extended periods of 18 and 24 months.

Part of a Section moves fast across open country at one of the training used by the Battalion near Ladysmith. The platoon of which this section forms part had been travelling in convoy which had run into an ambush and these Riflemen with the heavy weapon were doing a flanking movement.

It is very difficult to assess one Company against another during a short period of time. It is rather like the First Class School passers, who so often fade away once they have to face the reality of life and the 'doing it by the book' is behind them for life. But, any Company that is better than Charlie, will indeed have to be very good!

I think what impressed me most about Charlie Company was one of the first things that I found out about the Company. On the Saturday morning that I arrived at Ladysmith, the Company Commander called the company together so that we could meet each other and I could ask questions. The tables were turned however, and it was the company that started asking me questions and it was this that impressed me. All too often young men, and specially young men in uniform, are reluctant to come forward and ask a stranger questions, even more so when their Commander and Officers and N.C.O.'s are present. The questions covered a variety of subjects and showed that these Rifleman had been thinking and discussing, amongst themselves, points that were not too clear to them and it became obvious that only a fool would try to pull the wool over their eyes.

I asked the Company Officers to explain this open approach from their men and they gave me a very simple explanation. "You see, in this Company we are all one big family". This may be one of the contributing factors as to why there have been no men A.W.O.L. since the Company came into being six months ago and why, according to the Company, it has the best spirit, the best morale and the best motivation. Another factor is that Charlie Company, like most of our other training units, is now being able to benefit from the use of men as Instructors, who have completed a number of tours of duty in the operational area.

The Company Commander with one of his Platoon Leaders instructing his men on ambush and mine drill in the training area. All the Instructors with Charlie Company have had at least one tour of duty in the Operational Area and in some case four or more periods. The stick on the back of the sitting in front is used for mine probing. The stick is the internationally accepted means of finding mines by small formations that are not able, for operational reasons, to encumber themselves with the conventional types of mine detectors usually used by the Sappers. Very often probing is done with a bayonet but this is tiring and dangerous as the probers are in a poor position for quick reaction.

Unlike most other Companies in our Army, the whole of Charlie is quartered under one roof in a large hangar and it is here that they live and eat together. The centre area is used for messing and various indoor games, together with the boxing gloves that are used to settle disputes! And if there are any disputes concerning Charlie Company's claim, this might be the best manner in which to settle the matter.

The training has to be tough and realistic and this Rifleman is shown what not to do. In many instances I have found that it is the recruits who would like to step up the pace of the training without regard to safety factors. With Charlie Company there was never any shortage of volunteers for this aspect of their training.

Editor,

We would like to think that Charlie Company is a typical South African Infantry Company and hope that these photographs will give some idea of how an Infantry Company trains and lives.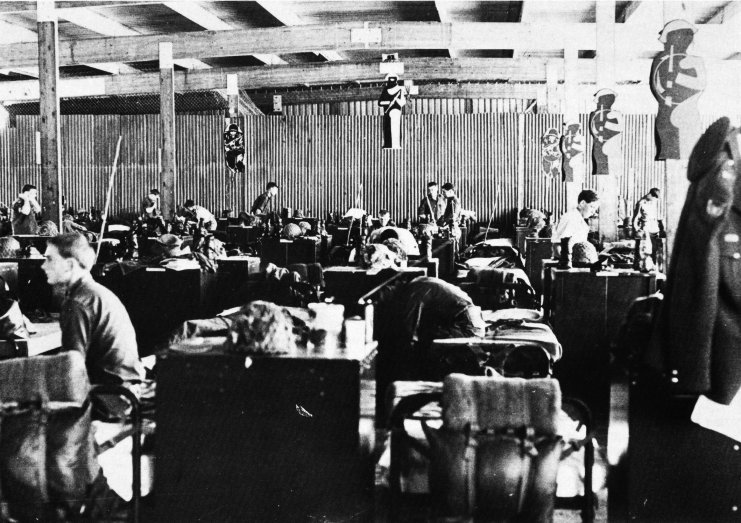 The members of Charlie Company rejected any suggestion that they would prefer to be split up and placed in the conventional type of Army bungalow. This photograph shows the inside of the house of `The Family' and was taken just before Sunday dinner was served in the centre area which was used for feeding and relaxation.
---
Published: 3 September 2004.

Here are shortcuts back to 5 SA Infantry Ladysmith 1976 personal account, Sentinel Projects Home Page.