The Last of the Roof's
(National Service in Four Artillery Regiment 1993)
History is a record of human progress - Of the struggle of the advancement of the human mind, of the human spirit, towards some known or unknown objective.
- Jawaharalal Neru
Introduction
I come from a family with a long military service history in South Africa. My paternal Great Grandfather had served with the Colonial Forces during the Anglo-Boer War and had then gone on to serve in the First World War with the South Africans in Flanders where he was 'gassed', until he was honourably discharged in 1917 for being too old to continue with active service (he was in his late forties early fifties). My maternal Grandfather had first been a member of 1 Special Service Battalion (1SSB) in the 1930's when it had been created as a means of employment for unemployed young men after the great depression. He then went on to serve with the South African Air Force during the Second World War as a wireless operator and dispatch rider in the western desert, attaining the rank of flight Sergeant during the war.
My father's brother-in-law was a PF Brigadier General who was once OC of Natal Command, his other brother-in-law was 2 IC of the engineers in Kroonstadt. My own father was the only one not to go to the army; rather he went to the navy, where he served on the SAS President Steyn in the mid-1960's. My uncle was also PF Army and later joined ARMSCOR where he was part of the team that went to France to develop the CACTUS missile system for South Africa in the 1960's. My father's nephew was a chopper pilot in the SAAF and is now working for DENEL as a test pilot and was one of the test pilot's to fly the Rooivalk Attack Helicopter. My cousin was a 2 Lieutenant in the Artillery, when he was killed on the border in 1987, not through action, but due to a accident in which the Buffel in which he was travelling in rolled and he was crushed underneath (c'est la Guerre?) and his brother was a part of 12 SAI in the dog unit. To say that I come from a military family with strong military traditions would be an understatement in the extreme.
As a child I would dress up as a soldier and go leopard crawling through my mother's flower beds, ostensibly to kill terr's (this I continued to do up until the age of 16/17) in my matric year I volunteered for the Navy PF, but unfortunately I was rejected on the grounds that I was not quite medically fit enough (To be honest I was a chubby kid and was not very athletic, thus did not quite fit in to the SADF's idea of a PF officer).
In October 1992 or there-about I received my call up instructions for 4 SAI in Middleburg, if I could I would've done a somersault with joy, but as I said I was not very athletic, so I didn't attempt it in case I injured myself. All the other guys had received their call-ups too and as such much discussion was taking place at school, as to where are you going, are you going etc. High School in South Africa in 1992 was very different from previous years. Firstly although national service was still mandatory this was 1992, Mandela was free, ANC was un-banned, CODESA was on the go, schools were multiracial and it was just a matter of time before the new democracy occurred. Very few of the guys actually even seriously considered doing national service. I on the other hand was adamant; I was going!
NASREC and Unit allocation
On the 7th January 1993 I reported to NASREC with my call up instructions and was promptly marked off the list by the Personnel Corp corporal. I kissed my mother goodbye (she was sobbing), shook my Fathers hand (he too looked sad), my brother and brother in law quickly wished me the best and were eager to get the hell out of the place, what with all the army there, as they both were draft dodging by going to Technikon and had luckily received deferments, but the look of "are they gonna catch me" was written all over their faces. I on the other hand was acting like the brave defender of the nation, straight and stern, 'vir volk en vaderland', this was incongruous to say the least as I came from a liberal English speaking family.
I remember being ushered into one of the halls where we had to unpack all our stuff while MP's came round with sniffer dogs and checked for dagga etc. It was there that I met up with a couple of other guys who had gone to my school, we decided there and then, stick together during this adventure (safety in numbers and all that). From then on we were rushed onto waiting buses, and there we sat, and sat and sat. The bus never moved, there seemed to be a problem, finally some Corporal climbed onto the bus and matter of factly told us that we were no longer going to 4 SAI, it was full, rather we are going to 4 Artillery in Potchefstroom! Potchefstroom? I didn't even know where the hell that was! "Oh God" I thought "what if my folks come to see me in Middleburg, I wont be there!". We arrived in 4 Art at about 3pm where we were given lunch, weak diluted orange juice, a banana and a chicken pie (a frozen chicken pie).
We were then allocated into tents and slowly we began to get to know each other. Anybody who has been to 4 Art in Potchefstroom will remember the size of the base, it was massive, and our intake was so many, especially with the guys coming in from Natal and us 'former' 4 SAI troops that they were putting tents up on the parade ground, roughly 3 000 guys had been sent to 4 Art, I overheard the Bombardiers as saying that this was one of the biggest responses that they had got to a call-up since the end of 1989.
The Start of Basics and nouveau experiences
On our first morning in 4 Artillery, we had to be up at 4am in order to get medicals and all the rest done in a day, we only reported, in dribs and drabs at 4:15am. Waiting for us was Lt. Brits, a skinny young man of 25 or there-about, who wore his 61 Mech badge with pride and who had an incredible nervous twitch, he chain smoked and had these wild looking eyes. We later found out via our Bombardiers that Lt. Brits was a forward observation officer with 32 Btn during Ops Modular, Hooper and Packer, and was a little bit 'shell shocked'. It seems that he had come close to FAPLA once too often; we also learnt that our Battery Commander, Captain Rademeyer was also ex 32 Btn and was part of the Multiple Rocket Launcher (MRL) Battery attached to 32 Btn. We were therefore quite impressed with two of our leader-group, as this was 1993, the border war and Angola were but recent memories and as such there was some mystique around those who had been on the 'sharp-end' during the old days, as for the other leader elements? Well I will get to them soon enough. As I said earlier, we all arrived in front of Lt. Brits at 04:15, he looked at his watch once and said in a soft voice, but a voice dripping with menace, that "This is the last time I wait for you fokkers, verstaan ons vir mekaar?" If it wasn't for the cold having frozen our bladders, I am quite sure we all would have pissed ourselves for sure and true as anything we NEVER let Lt. Brits wait again...
The following few days was a flurry of activity, kit issue, with us being issued ill fitting uniforms and overalls, having to carry our kit which weighed a ton to our tents, getting it squared away and then medicals, why not check us first to see whether we were to pass our medical and then issue kit to those who stay, can only be described to the point that I don't think anybody has ever failed and Army medical, Helen Keller I am sure would have been classified as G1K1! I tried to gippo my medical, I told the doctor that I had an old rugby injury to my neck, he then decided that I should go for an X-Ray, so off I went and stood in front of the X-Ray machine in Potch Military Hospital, with my head slightly leaning to one side in order to give the impression of a crooked neck. The doctor upon seeing my x-rays, looked at me and smiled, and then promptly stated; "It's not that serious looking, I will make you G1K1, but better watch it, just in case" I am sure that I never had him fooled for a minute.
As soon as we were returned to our base, we were told that some other units were coming round to recruit from us, and that we were welcome to join them, if we were too 'slapgat' to stay in the Artillery. The units, such as Finance Corp, PD School, Chefs and others came and recruited, among the units was the South African Medical Services, and they wanted guys to become Ops Medics. An Ops or Operational Medic, is a kind of Army Paramedic. I thought cool, let me sign-up, get me out of Potch and into Pretoria, closer to home and civilisation, then we were told that only after basic training will we transfer to our respective units, those guys who had volunteered for infantry and other 'combat' units faces fell, because there and then their hell started, as our Bombardiers decided that these 'fokkers' were going to pay for giving up the glorious Artillery for another combat arm, and God did they suffer. Those of us who were going to be Medics were treated like those who had decided to stay in the Artillery, mainly because after our Ops training we would return to the Artillery and also because we helped them practically, as Captain Rademeyer put it, : "So julle makers wil medics wees? Lekker man, vlieg in die Oryx, land in a warm kontak met koolle wat rondom jou vlieg, stop die blood en al daai lekker dinge, hahaha'" translated into English: "So, you guys want to be medics? Lovely man, fly in the Oryx (helicopter), land in a hot contact with bullets flying all around you, stopping the bleeding and all those lovely things hahaha". That man, scared me.
Basic training had a rather odd beginning, or so I thought, it started with us polishing our floors, cleaning the toilets, basins and showers, been shown how to prepare our beds for inspection and pack our lockers the correct way. And then after we had done all of this, the way we had been told to do it, we were then yelled at "Julle is fokken hoor se konte, hierdie is die kakste inspeksie ooit, nou gaan julle kak!" translated into English: You all are f**king whore's c*nt's, this is the shittest inspection ever, now you all will shit yourselves". And suddenly we were having to report outside the bungalows with full battle gear on and before I know it we were running, falling, getting up and running again all on the command of a whistle, One blow = Run, Two blows = Fall down (but not just collapse, but dive into the ground type of fall), this would go on for about an eternity, but in reality it was only about 15 - 20 minutes. This I was soon to learn would happen on every possible occasion and whenever the feeling took our instructors. Another variant of this run/fall opfok was to make us drink two litres of water and then run/fall for about hundred meters, then drink two litres again and repeat the process until after about 6 - 10 litres we were vomiting and unable to move with stomach cramps and lying with our faces sideways in our own vomit in excruciating pain, those bastards thought it was funny, I, didn't though. Another favoured punishment was to make us leopard crawl in full battle gear from one end of the parade ground to the other. These punishments were usually for some minor infringement, such as failing inspection, not keeping pace and time when marching, being late for something, not being the first one back after having to run somewhere and back again, and various other possible reasons. One thing about basic training was that we were not allowed to walk, anywhere, we either marched, or ran, always in squad or platoon strength, or if we were alone then we had to march, never, ever did we walk!
Our average day in Basic Training could be broken down into: 05h00 Wake up, 06h00 Breakfast, 06h45 Inspection, 07h00 - 10h30 Marching, 10h30 Tea, 10h45 - 12h30 Field Study (Camouflaging, leopard crawling etc.) 12h30 - 13h30 lunch, 13h30 - 15h30 Lectures (Mil Law, Buddy Aid etc.) 15h30 - 17h00 was PT, and then it was over for the day. This was pretty much the standard routine all the time throughout basics, except when we would spend the day on the shooting range or something similar.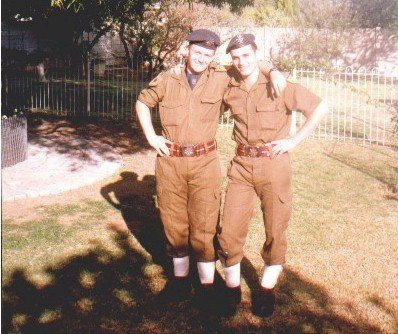 My mate, Garreth Mawdsley and me (I'm the one with the cravat) posing like real GV's in my parent's back yard after coming home on a weekend pass.
About midway through basic training, it was decided that those people transferring to other units like the medics, or chefs etc. would be removed from their existing Batteries and placed in a transfer battery. So there, I went from 47 Battery to 42 Battery, and from the vicious dealings of the Afrikaner Bombardiers, to the dolce sounds of black bombardiers (yes this was during the Nationalist Party reign) and an Infantry Staff Sergeant from 12 South African Infantry, who arrived with an 8 foot solid metal railway line, called "Moemfie". Aah "Moemfie", how I hated thee... the thing with "Moemfie" was, according to the Staff, that 'she' hated the ground, it made her cold, so if selected, you had to carry "Moemfie" everywhere, furthermore, according to the Staff she loved troepies, so the hapless troop had to eat with "Moemfie", run with "Moemfie" etc. If you fell asleep in a lecture, then the Staff would give "Moemfie" a new friend and so it went.
In 4 Artillery, they used the dining halls as lecture rooms, however, our instructors decided that, why use a room when the whole of Africa was out there. So, with the Staff Sergeant leading, followed by a Battery of Battle geared, camouflaged, blackened up, sweating troops and the ubiquitous "Moemfie" we held all our lectures after a 10 Km route march into the environs of the Artillery shooting range in Potch.
Despite the fact that we were the transfer Battery, a spirit built up in us 42ers that was second to none, we never received an "Oppie" unnecessarily, we worked hard at inspections in order to impress our instructors, and our inspections were on the whole good. Our Staff, and his "Moemfie" and our Bombardiers became our favourite sight in the morning, and it wasn't long, before the transfer Battery, was leading all other Batteries in evaluations and was rated as having the highest commitment. We even beat 41 Battery, who were the people who had volunteered to do the Parabat course and were the so-called "Manne".
More to follow....
---
Published: 30 July 2001.
Here is a shortcut back to Sentinel Projects Home Page.