National Service via the South African Police 1983-87

Prologue:

I come from a French Mauritian family, Natal North coast near Stanger. I did my schooling in Mauritius. After graduating in Durban, I decided to do my stuff [called up]since I had no plans on going anywhere. [I was 24 years old at the time]. I never got an initial call up, but the fact that I was born in South Africa and wished to carry on living there - I had this desire to do my duty at the time... that's why I went to the recruiting office in the first place. It was common knowledge that at the time instead of the 2 years NSM programme alternatives were SAP or SA Prison Service or Railway Police. [While I was at university, 2 requests were made for volunteers to go to the SA base in Antarctica for 18 months which would count towards the NSM 2 year stint] I also believe that 4 years with SAF Marine also counted at one point, but I'm not too sure.

I went into the SADF recruiting office and told them I wanted to "volunteer" for the intelligence unit or communications unit since I was a qualified radio ham and spoke French and Spanish... The Captain there said "No ways, you sign up 4 years then we see ... ?" My sister, who had connections then, informed me that if I opted for SAP, the pay was much better and since I was married, they would even pay accommodation and even organise to pay my mortgage on a house or flat etc... which proved correct later. That is why I was attached to the SAP in the end.




Upon joining up at CR Swart Square, I was informed that I would begin the next day at a remote station on the border with Kwazulu, at Glendale. This suited me fine since my folks were only 1km away [my call up address.]. That night I shaved my head and beard and walked into the charge office next morning and was shat out straight away by the 2IC Sergeant! He also informed me that I would kak-off in Police College since I could not speak Afrikaans.

Rank: When you join the South African Police, your rank is `Student Constable' until you finish 6 months basic training at Pretoria. So the next day he put me on the police shift system: i.e. 14h00-22h00 for 2 shifts then 06h00-14h00 for 2 shifts and finally 22h00-06h00 for 2 shifts then you get 2 1/2 days off. This means you only get 4 week ends of Saturday & Sunday in a year! Your bio-clock never adjusts, which makes you aggresive full time, and permanently jet-lagged.

Basic Training:


Since I had a degree, my basics would be only 3 months which began in July 1983. I said farewell at Durban station met other guys on the train. One guy who was going to be with me afterwards and my translator was David Peiser [ex prison service] also Dave Moore [ex Durban City Police] and Chris Nel. We drank all the beer we could and slept like logs till Germiston. [The sergeant accompanying us was actually in our compartment and downed as many beers as we did!] I think the difference was that we were mature aged recruits, and had spent time basically on the beat already, which helped too.] The train carried on to Pretoria Central around 07h00. I can't remember how we got to College: truck or police van...?

Our barracks was a 3 story brick building, with no grass except for the sports field. Our intake was roughly 1200 in all including a female Company too. We were alloted a company and divided into 6 platoons. I ended up in the platoon with graduates and ex other armed services as well as ex NSM who wanted to be policemen. Peiser, Nel and I stuck together. We were met by our Sergeant and his 2 "corporals"; actually `lance sergeants'. They asked each one of us to present ourselves, and they then chose 2 from our platoon to be platoon leaders; both were rugby players and Dutchmen. Ya well no fine!

The next day we had to all go to the quartermaster and draw full kit. We got all the usual overalls, boots, webbing, camouflage gear as well as all the blue uniforms including all bells and whistles, baton, R1 rifle, 9mm pistol, handcuffs etc. My tromel was overflowing so I ended up filling my balsac too in the end. Next we went to the hospital within the college itself; check up & injections for all. We had the rest of the day off - Except for hair cuts. We were instructed by our Sergeant on bed making and told to remember that our direst enemey from now on was Stoff! i.e. Dust.




Wake up 04h30, showers beds aligned, pillows in line etc... as described in other accounts at Sentinel... 06h00 inspection: Aandag, everyone comes to attention where they stand the "manne what counts" gather in the middle of the 36 beds and begin tipping every single one over ... Re-inspection in 30 minutes, breakfast ends at 07h00, so we all make haste and succeed at last.

Within 2 weeks we had organised into inspection teams and divided up chores so each group became experts at whatever: i.e. a group would do the brass handles of the windows [40 at least], another would do the Loos & showers [my group: soutpiel and frenchpiel get the kakhuis clean-up naturally!] Next the boots were thoroughly re-polished on weekends and boned during the week; the idea was to keep a spotless pair for morning inspection and then change into the everyday ones before breakfast. The floors were washed down with hot water and detergents at first then any stains would be steal-wooled away. This was followed by tons of clear wax polish which was allowed to dry then two chaps would sit the fatest unfit chap of the platoon [at beginning of basics, naturally!] on a blanket and run down the whole length of the hall [all the beds were removed to one side for this]. The final sheen was obtained by everyone shuffling around on taxis; typically orange-coloured flannel cloths; the best shiner would be female nylon stockings.


Food: You would have to wait in a silent single file till the Corporal says Julle kan nou eet. As you walk in, you grab a steel cup, knife, fork and varkpan. You pass the serving counter where food gets dolled onto the tray then the whole line of about 50 guys stands behind a chair along the long tables [100 places each x 12] and when the line is full, we would all sit and have aproximately 5 minutes to swallow. Then the line stands up and on your way out, trays get dumped into huge bins. Tea is available twice a day, and thats when ouma se rusks come into play. We lived off the stuff.

Immediately after breakfast, lectures began, so its up the stairs, get all your books in a brown bag, tree aan in the grassless courtyard, run to lecture rooms aproximately 500metres away. Lectures last 30 min with 10 minutes between them, 8 or 10 periods a day. Get shunted back to barracks to change clothes - all the time in minimum time - else ok! More push-ups etc... Everyday you get PT [more on the spot running, knees chin high ala Hammanskraal style. After 3 months we could keep that up 30 minutes no sweat! Also wrestling, boxing, aikido, baton and handcuff techniques, riot drill, baton charge, method of arresting a person etc] and rifle drill; and of course every breach of "discipline" or if not fast enough or if there happened to be a bird flying past, you get to do pushups or run around the barracks etc. Wednesdays and Saturdays after lectures was the time to engage in rugby, otherwise had to march and drill. So together with our R1's; Peiser, Christo Nel and I decided to go for the Vertoon [Display] Drill and Presidents Guard parades. We all got selected and after many hours sweating it out [Yes, you sweat in Pretoria in middle of Winter!] we were issued with a second R1, latest model; brand new black plastics butt etc [Now we had 2 rifles to clean for inspection!]. What we all ended up doing was training with the old wood stock version which made a nice rattling sound when slapped upon Presenteer geweer. Our Company Commander actually did the final honing of our drill coordination. The first time we were required to perform was at the Pretoria Opera when we gave a guard of honnour to the President of the Republic one evening. We actually lined the pavement right up to the entrance i.e. fifty police armed with R1's without a single bullet amongst us. The next time was at the end of the 3 months; we were driven up to Pietersburg where we gave a Drum Drill demonstration to the town in front of the Minister of Law and Order at the sports stadium after having marched across the town in Full Dress Uniform. Later we saw ourselves on the SABC news and were very proud of our performance. Somehow, on the way back, we bribed the driver into stopping at a bottle store; we managed to get rather sloshed by the time we regained Pretoria. Next morning we all got rather opfoked since the bus we had been in was actually for the police band who were supposed to leave for Durban the very next afternoon... The amount of broken glass, and muck on the floor was phenomenal... I know because we had to clean it up ourselves chop chop.

We had Sundays off but we had to attend church service, Dutch Reformed had a church in college. Peiser and I decided to be Catholic so they provided a Hiace to drop us and fetch us after service; we had to wear suits and ties? after the second time they stopped and let us have a classroom to read the bible(?) we ended up staying in barracks & smuggled in a TV thanks to Johan Fourie in our platoon. He was a SA springbok champion and had extra passes and he organised that for us. After 4 weeks we had first pass. I had my wife come up and stay in a boarding house in central Pretoria since from now I would get every weekend off; and we spent the first weekend together there. She then moved in with the wife of a fellow in the platoon who was a Captain in the prison service in Pretoria.


As I went back to college the Sunday night, we were all informed that all further leave was canceled for the duration due to an outbreak of German measles!!! including married chaps. After 2 weeks, this guy calls his wife and tells her to come visit him with my wife. Sure enough, next evening during study period our Sergeant tells Harris and me to proceed to the duty room immediately. Off we go, and lo and behold! There's my wife sitting next to this lady Captain in full Dress! We spent a few minutes together then Harris and I throw salutes to the Captain and they are off. Two weeks later the passes were restored.




A week after beginning basics, I managed to get sick while guarding the ammunition dump and shooting range. I ended up in hospital for 4 days with Pneumonia. Over the 13 weeks of basics I was in shape when I got there, and could run 2.4 k in under 12 minutes; but I never managed it again after the illness. Whenever I get a cold now, I have complications. I lost 5 kgs in all. The food was typical but boring in the end. The canteen sold the usual chocolates and cool drinks. The pies and pasties were ok, but never enough!

The terror of the college was a Colonel Leash... CiC did not need a loudspeaker on parade ground! One night, when a morale boost was provided for the troops in the gemeenskapsaal [community hall]...each company had to perform a sketch or two or sing a song etc... so our lot got together about 6 guys on stage and they sang `Greensleeves'; then the one guy begins imitating our company commander, decent guy, who was watching too. We all roared. This was followed by Chris Nel impersonating old Col Leash... even better; the whole college were in tears. Our company won outright. We had as guest singer Pierre de Charmoy [actually a cousin of mine] who sang his best songs for us.

End of Basics: The day before passing out parade, we were chatted up by our Sergeants and left free to roam the camp for the afternoon. Now since we were already issued our full fledged constable ID's, some guys decided to call at `Solly Kramers' and fill the boot of a car or 2! By 20h00 the whole company was deserted by the sergeants, and we took over the place. We had a huge piss up. Next morning tree aan on the parade ground; Leash shat us all out in no uncertain terms and canceled the going home parade for later in the day. Since we were therefore free and had to report to our postings only 3 days later, we got into our respective cars [flew down at once to get it], and all of us and left without a teardrop in sight.

Stanger: Peiser and I were posted to Stanger Police Station and ended up in different shifts as van drivers. After 6 months of this boring routine, I applied and got a posting as 2IC back at Glendale, where I lived in the married quarters with my wife and child. My station commander was W\O Charles Rousseau. I was made a Lance Sergeant only, as although I had already passed my Sergeants certificate exams, 2 years service was needed first. Our area consisted of sugarcane farms and some KwaZulu grasslands. The population was 35,000 at the time. The major crime consisted of murder and culpable homicides and rape, topped by GBH [fighting]. Our force consisted of 1 W/O 3 sergeants & 5 constables in total. 1 R6 landrover, 1 Hilux & 1 Isuzu. The beauty of working in such a small group was to depend on each other and also know our limits as well. I spent 2 years there and was exposed to all aspect of police work from trafic control to fishing bodies out of rivers, accidents, discipline colleagues, social work [family disputes, child abuse, suicides and the running of a police station] Raids, patrols and crime investigation. When the commander went on yearly holiday for 4 weeks, I had to assume all the responsibilities; liaison with headquarters at Durban North Command and Security matters. During my 2 years there, a constable was stabbed while arresting a person, another was shot twice in the back returning from a weekend off, and an off duty sergeant was stabbed in a robbery attempt while he was parked at Tinley Manor beach parking. Fortunately all survived. Two years after I left there, my replacement was shot dead responding to a trading store being burgled.

Riots: Before my 2 years at Glendale was up, I applied to join the Diamond & Gold branch in Durban; but before I got a reply, I was ordered up the border near Botswana at a place called Verdrag; this was a bush training camp and here we were given the latest propaganda regarding Terrorism, and riot training and ordered NOT to shoot anyone rioting anymore; Except if someone's life was in mortal danger etc. This came about following a recent shooting at Langa Township where a lone armoured vehicle manned by 3 or 4 men was set on by a riotious crowd. They panicked, shot into the crowd unfortunately through lack of direction from superiors. We were introduced to the Stopper 37mm grenade and rubber bullet launcher. At 80 metres you could see it bouncing towards you but 2 weeks before, Peiser [again] was hit on the thigh... It was still swollen and sore !!! The cs round was rather childish compared to the R1 grenade. We also learned to drive the Sneeze machine! This huge fan mounted funnel on a bakkie would spread a white powder some 15 metres all around the vehicle whilst driven round a presumed mob. You would have to have all the windows and ventilation closed while operating this, else you got stung by it too. At night we would park this lot downwind from where we slept. After getting back home, I was notified that things were getting rough around the Cape, and sure enough, 2 weeks later I was railed to Pretoria, Waterkloof and flossied to Port Elizabeth. The plane that took us returned with chaps rotating out as well as 3 coffins... that brought sudden awareness to us all! We were then posted to Uitenhague in the sports ground, where a tented laager was erected to form our home for next 90 days. 12 hours duty, 12 off. Casspirs were available in camo paint jobs, and 4 guys would elect it their private domain for 12 hour stints to guard the bus depot at Kwanobushle or Langa townships where necklacing and school burning was very active then. None of us could speak the local language. Apart from us parking here or there, we achieved bugger all to stop the violence which was going on within these communities. Basically we were there to stop any march into the white areas of Uitenhague; which we only were called upon once to do using teargas. There was a "fort"; an ex supermarket in the middle of Kwanobushle. The army had 2 pigeons nest with lmgs on top, on the ground floor a police detachment 2 or 3 SAP to register "complaints" hahahaha... In 90 days, zero cases were reported! We slept in ten man tents; 5 per tent. We had 2 meals a day, and if you were on day shift, we'd get sandwiches and tea dropped off at 10h00. Supper was about 6 ish, and there was a TV was in the mess tent. We were approximately 50 guys all told including the cook, who shot his finger off while cleaning his pistol. The bullet went through 4 tents.

Light was provided by a wire being pulled across each tent, a clip-on socket would then be pushed onto this, and we would have a 100watt light to read by? I went to Clicks and got a 300watt bulb which sorted that out for my tent.

On night shift we would patrol every 2 hours for an hour or so driving around the townships. When it had been raining, the stink would be terrible when the casspir's wheels would spray up the sewage from the open drains. The cemetery would also have to be patrolled and here the stench was different due to new and shallow graves.

When not on patrol, we would find an open space, park off and have one guy sitting in the drivers seat, engine off, 1st gear selected diff-locked; no handbrake in case we had to move in a hurry, while scanning the front area. Another guy would lay on the canvass roof awning facing backwards with R1, rear doors closed. That way the others could kip across the side seats. [So one such night, around 03h00, our commander's bakkie appeared, which drove towards our position with its headlights on full beam; unusual! My driver informed me about that, and we assumed he mght be bringing us some coffee, as he sometimes did. I open the doors and jump out to greet him, only to be met by an unknown Major. I salute him, he barks: "Where is the section leader?" I tell him "I am!" "Where are your men? I want to see them immediately!" I tell him my driver is at his position, my 2IC is looking at us with his R1 from the roof and the two reliefs are resting on the seat and the floor between them. He shouts at me: "Fuck the resting! Everyone must be alert 100% of the time!" Eventually with all this shouting, the two guys "resting" are ordered out. They stumble out and come to attention, one still half asleep sways a bit, not too sure where he is... The Major orders him into the back of his police van. I ask him what is happening. He tells me he is charging the guy for being drunk on duty? I informed him that he was reducing my section effectiveness. He pulls away and tells me I shall be reporting to the commanding officer in the morning. I went to see our commander and described the scene to him; Nothing came out of it for me. The guy the Major thought was drunk was found not having drunk at all and couldn't be charged for sleeping on duty because I had ordered him to rest!

I picked up a `souvenir' from those 90 days; that, to sleep along the bombproof seat squabs [6] per side and still access your 9mm in its holster you have to lie on your left side only. From then on, and to this day, I am never comfortable lying on my right side to sleep. We got hold of a foam mattress from an unused bed and slit it in two. That was like sleeping at the Ritz in comparison.

The Casspir is a 17 ton mass of metal powered by 6 cylinder MAN engine, full time 4x4 armoured personel carrier able to travel at 90kph [its true!] and also very able to get stuck in mud! Twice we bogged down driving on plains surrounding the town. Fortunately both times the army recovery vehicles saved us amongst a lot of teasing as could be expected. Each Caspir was supposed to be equipped with a long list of stuff for riots which was never ever provided in the first place. I believe that a whole lot of stuff was stolen; from RSA 53 radios to riot guns, grenades, helmets, ammo etc. over the different rotations.

Most of the force members who were posted to riots were sent from far away, and this caused naafiness. I would have been much more effective and efficient if I had been sent somewhere in Natal where I could speak Zulu and relate to the culture of the majority of the inhabitants I was supposed to be protecting. Plus, if duty rosters could be more flexible, then I could have had a family life of sorts at the same time, if not further than 2 or 3 hours away from my home, i.e. say 2 days off every 10 days. My motivation would have been all present.

Army: There were units based in the area, I don't recall their corps ID, but they had to have a policeman with each vehicle representing the legal aspects. Before my rotation, there was a casualty; an army guy ran behind someone and was killed behind the shack, but I have no details. During our time, the army shot a guy running away from a stolen vehicle. They had spotters on high ground overlooking the area as well as a plane circling high up overhead during daytime now and then. We casspirs did not have comms with the buffels; we had to relay through our ops room, who would phone theirs.

Near the end of the 90 days I got a message that my transfer to D&G came through, so I gypoed the fort's phone and called my wife who was in Mauritius for the whole period. A few days later we all went home following the helicopter visit we received from Adriaan Vlok; junior minister then I think, when he thanked us all for the `tremendous work' we had achieved bla bla bla, rubbish again. We flew by C130 to Pretoria and trucked to Durban right off; squeezed in the back with no cushions, all balsacs were in a bakkie behind us. It was blooming cold and uncomfortable. [Steve Biko style!]

D & G Branch: Two months later I was transferred to Natal Diamond and Gold branch. I have never worn a uniform since, and I thoroughly enjoyed my 1.5 yrs in DG. I shall not explain details at that branch except that we were under direct command of the Commissioner's office and a Colonel appointed by him. We were more or less left to get on with our job and were results orientated. We were provided with excellent equipment and facilities. The aims and objectives of the branch was to control the jewelers and illicit diamond and gold market [for de Beers really!]. My degree was never taken into consideration for promotion, two of my commanding officers applied on my behalf, but to no avail. I ended up speaking Afrikaans ok; but would not get passed W/O rank.

The End At the end of my 4 years, I bought my discharge and relocated to Mauritius and began a new life since I was already 28 and the army reminded me I had to do camps of 720 more days over next 12 years. Up yours mate! Enough! What I had seen in the townships and subsequent worsening of general safety; I assumed that things were going to change faster and uncertainly for my family.

Well thats my little story of "alternative service". Question: With hindsight, would I have opted for SAP? NO! I should have done the army 2 years and then began my work career sooner. You cannot re-write history. Its easy to criticize, but after 20 years in Mauritius, I keep wondering, if SA had adopted a similar model of gradual development iro education and democracy after the war [1950's] imagine where SA would be today! As a Nation and Country?

I had the privilege to visit Durban last year (2005) with my family. I was so happy to see it again, and sad too at the same time.
THE PHOTOS THAT FOLLOW: KWANDOBUSHLE
The following photos were all taken by myself except the one with the necklace victim; a teenage girl. Nearly every Saturday our patrols would find similar cases, which formed part of the intimidation campaign led by Winni's groups. Buses and taxi vans were also almost a daily occurrence; the victims ended up always among the township dwellers ...no more transport, schools burnt, terror tactics by politicals and their supporters.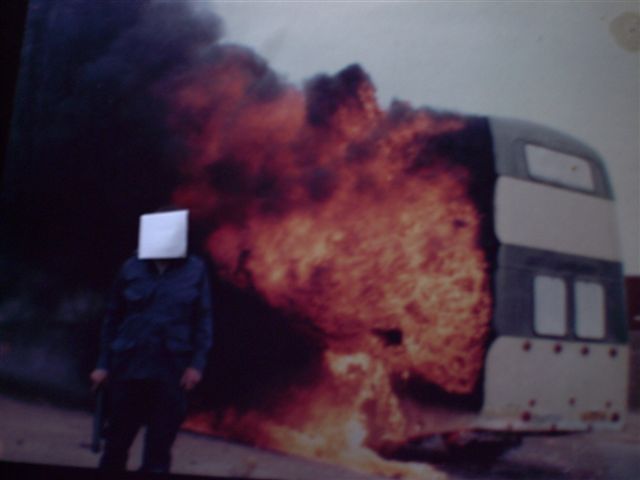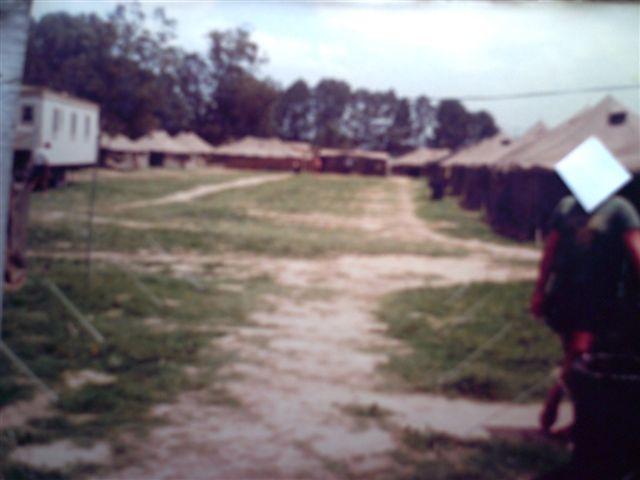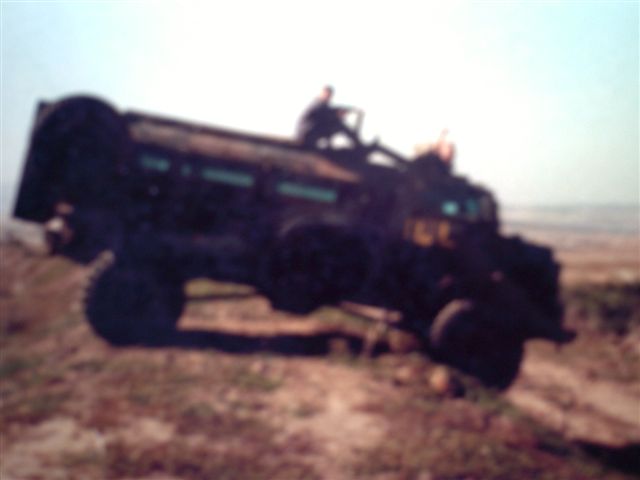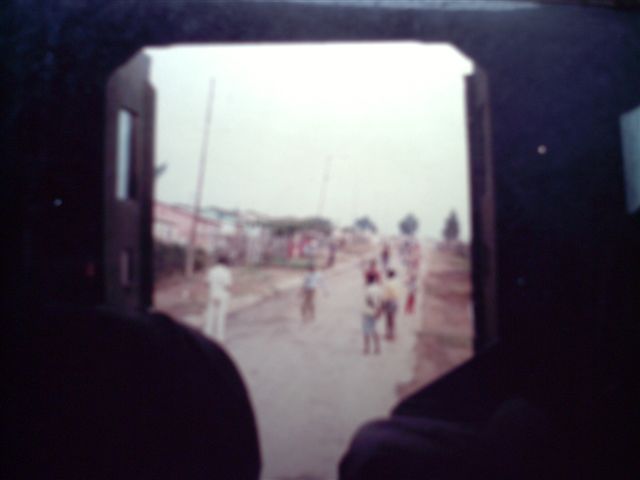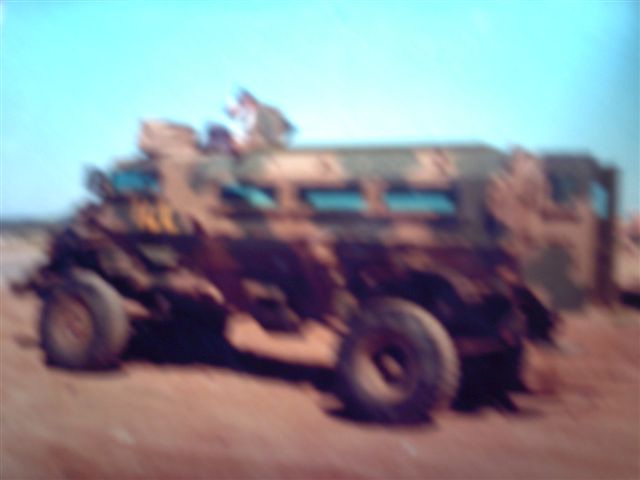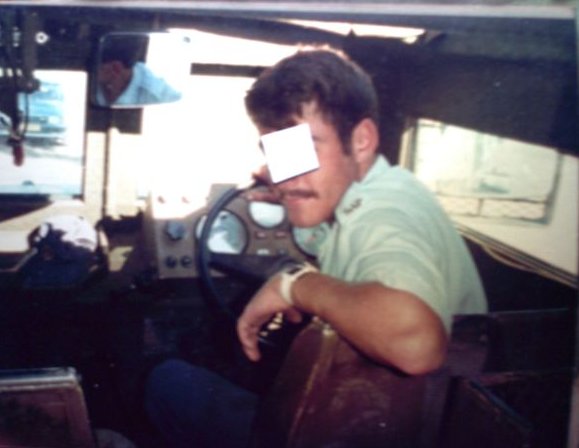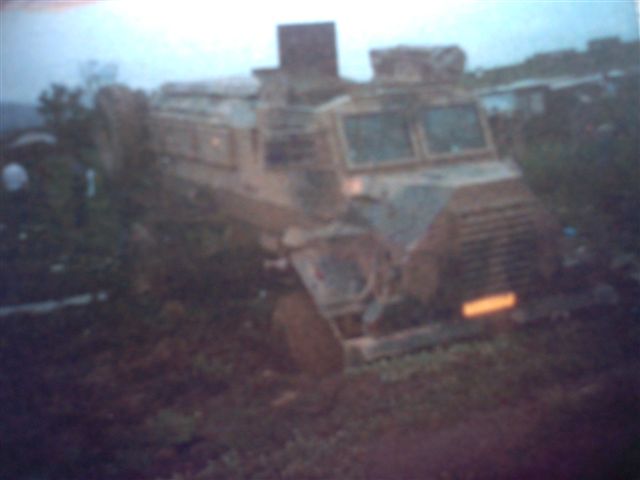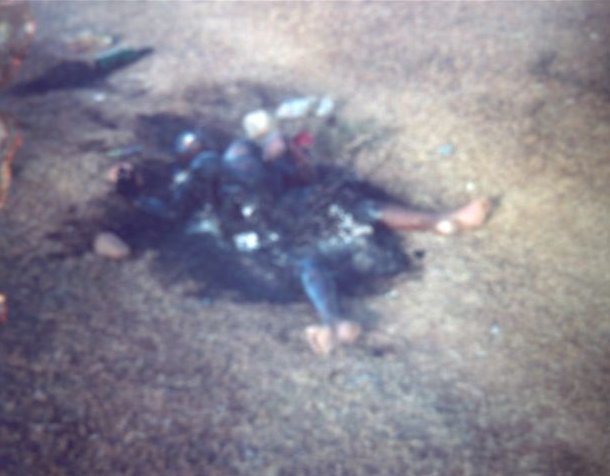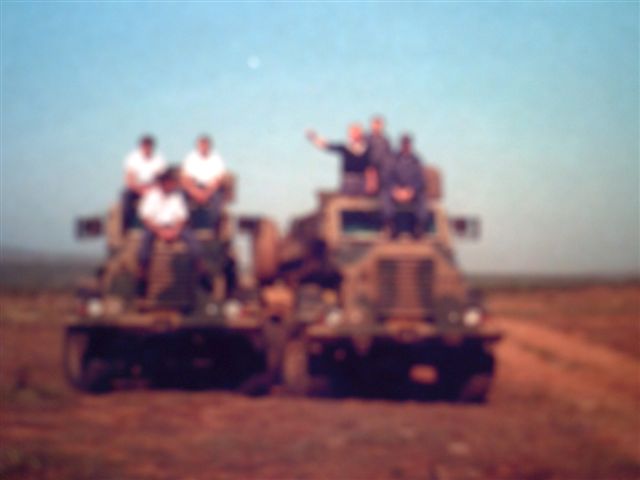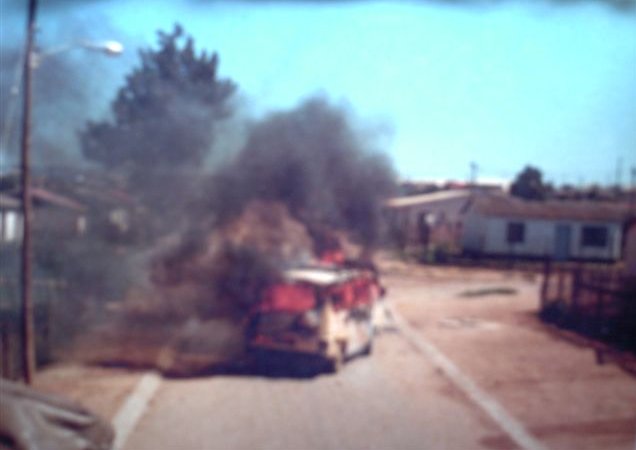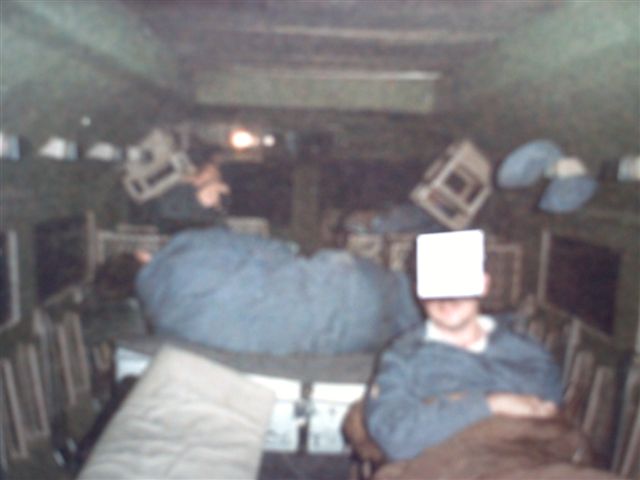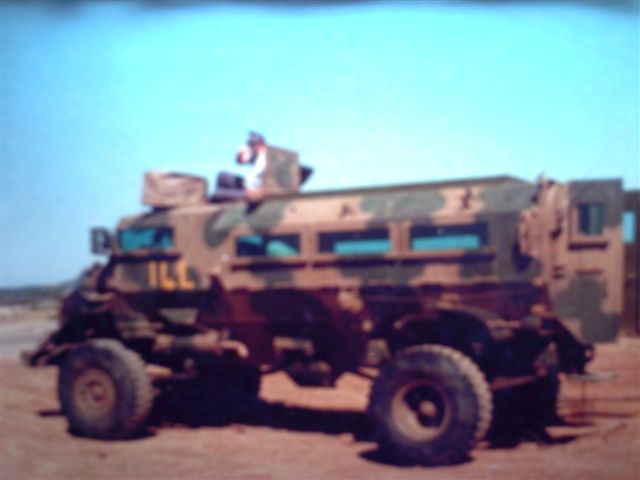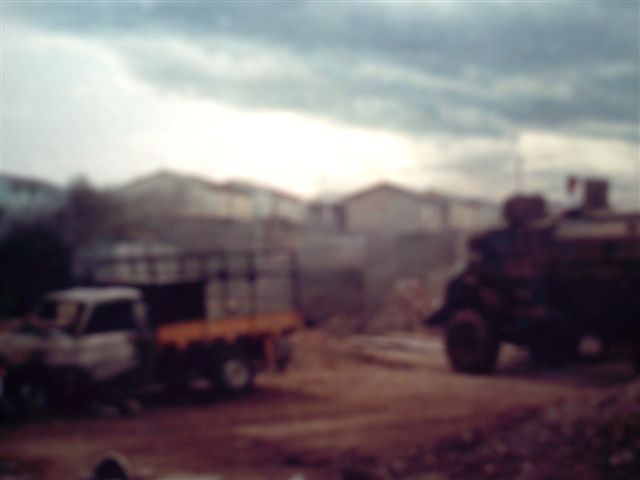 ---
Published: 29th September 2006.

Here is a shortcut back to the Sentinel Projects Home Page