The Adventure Of A Lifetime.

21 Field Squadron + Sector 10 + Ops Packer (1985-86)

It has been 21 years, but some things feel like yesterday, the smells and sound and sites stay forever. I suppose that if you hated it, it will not be too clear, if you enjoyed it and came out a better person, you tend to remember more. I am not even going to attempt to write down everything, there is too much. I am by no means a writer, so please excuse my grammar and other mistakes.

My Brother was PF in Kroonstad, he was a Sergeant who trained JL's at Vegkop and Bossies spruit. I got the following advice from him.

During basic training:
never volunteer for anything.
don't do anything that will make you stand out.
don't be first and don't be last.
if someone asks you if you want go to the border, say no 'cause he will make you run to the border of the camp.
if you really want to go to the border, do not go for JL's, becoming a corporal will reduce your changes of border duty significantly.
During second phase:
pay attention and learn as much as possible, this info will help save your live.
On the border:
use common sense and the training you received and you will most likely survive.
In January 1985 at the age of 17, I got on a train for Kroonstad with several hundred other young boys with the odd old man over 20. This, we were informed by the uniformed Corporals and Sergeants, was the start of 2 years of hell. And from the look on the faces of some of the boys you could see they were really scared. From Kroonstad we set off on another train for Bethlehem. I was to become a Sapper. And already proud of it.
Next stop is "2 Veld Genie Regiment" [2 Field Engineers Regiment] in Bethelehem. It takes a couple of days to get hair cuts, medicals and all your kit. After medical you get classed as G1K1 if you appear to be healthy and might survive basic training or G5K5 if they think you are of no use to the Army. After this we got divided into squads for placement in one of the three bases. Almost all the guys with medical conditions were to stay in 23 in town, the rest was either to 21 at the dam or 22 in the mountains. I was lucky enough to go to 21.
Basics at 21 Field Squadron outside Bethlehem.
The corporals, "Die Wit Tier" [The White Tiger] - he would hide in the trees to spy on us and to check that all of us went round the pole or tree. There was this tall one that thought he was the MAN but he should have been a clown with Boswell's [Circus]. The others were not too bad and they were the ones that were respected. When practicing our marching skills for the big parade after basics, the tall clown shouted and screamed at me to straighten my arm. It was as straight as I could get it. He then ran up from behind and jumped on my back on top of my full kit. I just kept walking like nothing happened; after basics you are used to carrying a person around on your back, after about 30 paces he lost grip and jumped off. None of the Sergeants or Corporals said a word, and Bozo was quiet for a while. After 3 months of seeing this guy step on people to make himself feel important, I was ecstatic about openly defying his authority.
The Sergeants, "Lucifer" - he was definitely mad, he would walk around camp on Sunday in his underpants and a pair of gum boots. He was mostly fair, unless you pissed him off. I think his main concern was really that we survived if we went to the border. A couple of us got a lift with him to Kroonstad when we went on weekend pass. We were about to pass a bunch of kids on their way home from school, and one made as if he wanted to run in front of the car. He made an emergency stop, jumped out with the "sambok" and chased these poor kids through the "mielie land". He got back about 15 minutes later. Fortunately they got away. There was also this other really weird and sadistic Sergeant who fell out the bottom of his coffin on his funeral. Like I said, he was weird. Some of the Sergeants knew my brother and they promised him that they will make sure I get proper training; this meant no mercy. The one sergeant did not like my brother, so he gave it to me big time.
The Lieutenants the Captain and SM, apart from one Lieutenant, I respected all of them and have nothing bad or weird to say about them.
The fat guy, he tried, but it was just not working out for him. The laziest guy, he got beaten up more than once. We would carry him face down between six of us, three on a side as we ran around Pienk Paal. The rest of the guys would hit him with their fists from below. I don't remember what happened to him.
DIRTY HARRY, after a couple of weeks we realized it was him and not the toilet that smelled like that. That night he got a free scrub on the parade ground, cold water, Super Blue surf and a couple of those hard bristled brooms. This must be one of the most humiliating things that can happen to you.
The shortest guy, with his full kit on you can see only his boots, kit and "staal dak" [Steel helmet] from behind. He was the shortest but also one of the best guys to know.
Then there was the bottom of the pile, the snitches, the Corporal's pet. The clever guys, they always think they know everything. The thieves that would steal another persons belongings. Who would steal underwear, it just does not make sense.
Torture tools, Pienk paal, this is a tree stump that have been painted pink, it was located on the other side of a small valley. A favorite torture tool to be used for troepies that do not want to listen. Gypsy hill, this is a mean hill that would sometimes be incorporated into the MMI (malle milletere instelling) or better known as the 2.4km. The dam, Gerrands Dam, another piece of nature that would be used to torture troepies.
Second Phase
At some time after second phase started we moved from 21 to 22 Field Squadron where the shooting range, as well as "Piet se Gat" [Pete's hole] is located. During second phase we learned about explosives, land mines, mine sweeping, water purification, bridge building, all the different weapons and a couple of other things. To any technically minded person who likes things that make a bang, this was a very interesting time.
Pictures 1 & 2. Before and after a South African no 8 landmine is detonated beneath this Cressida: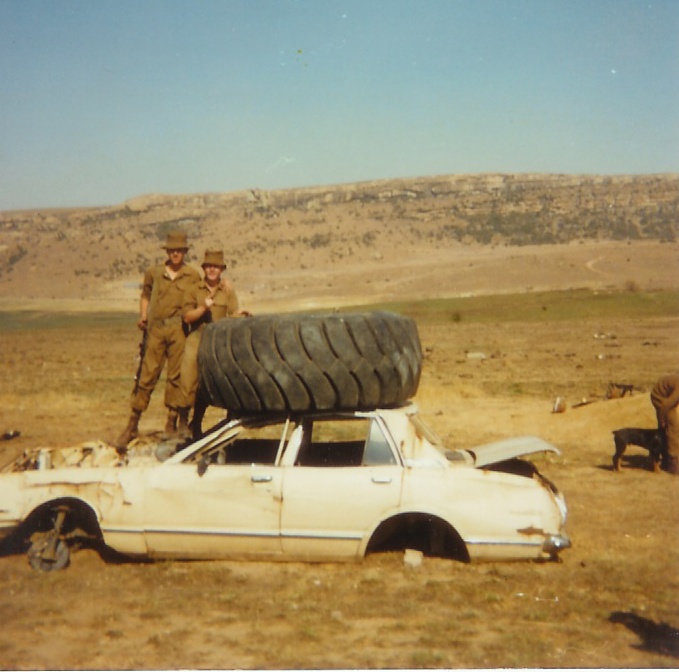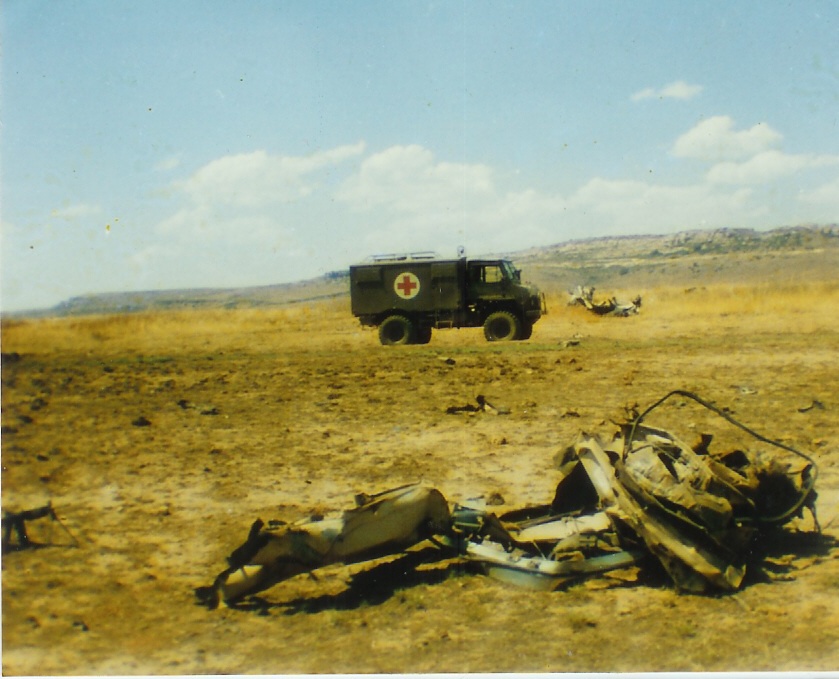 Picture 3. Army boot filled with sand dropped on anti personnel mine: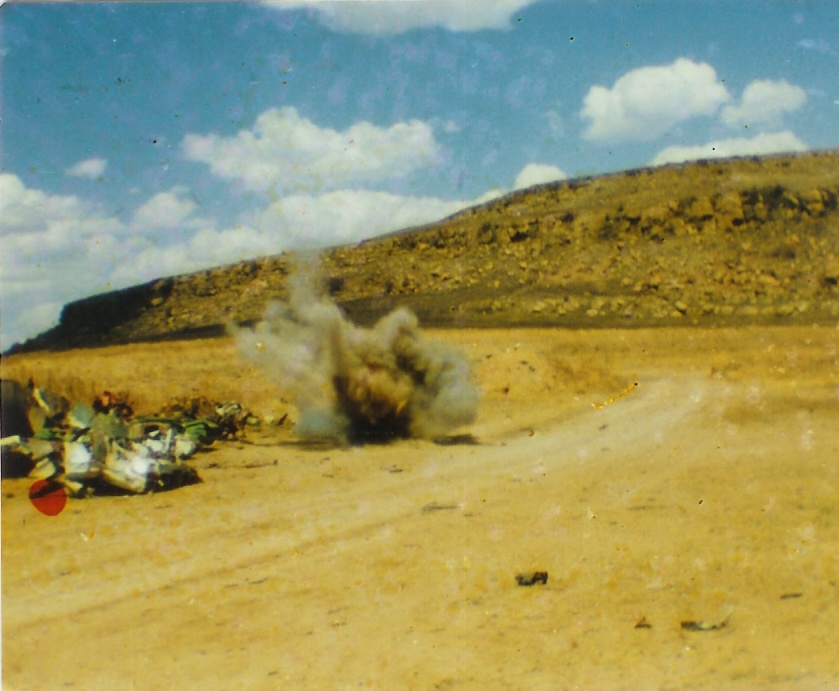 Pictures 4 & 5. Shooting a crater, pictures were taken from 2000 meters away, the hole created by this was unreal: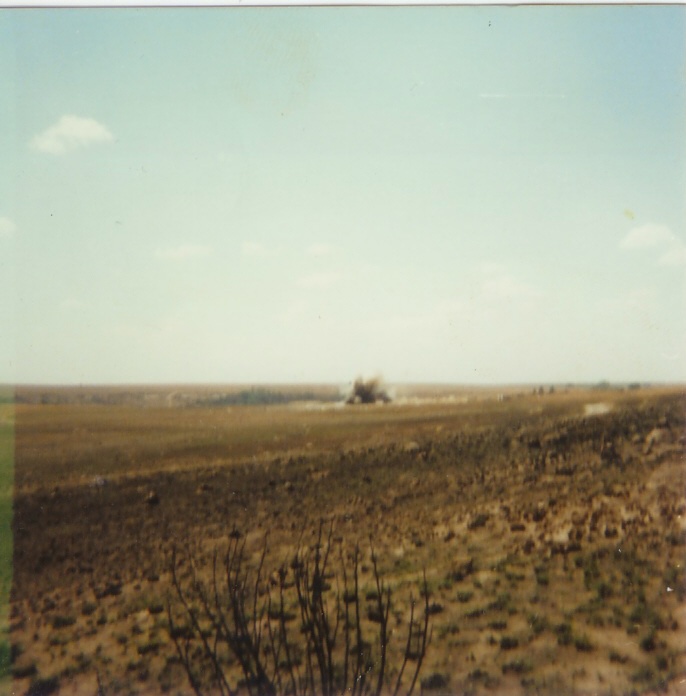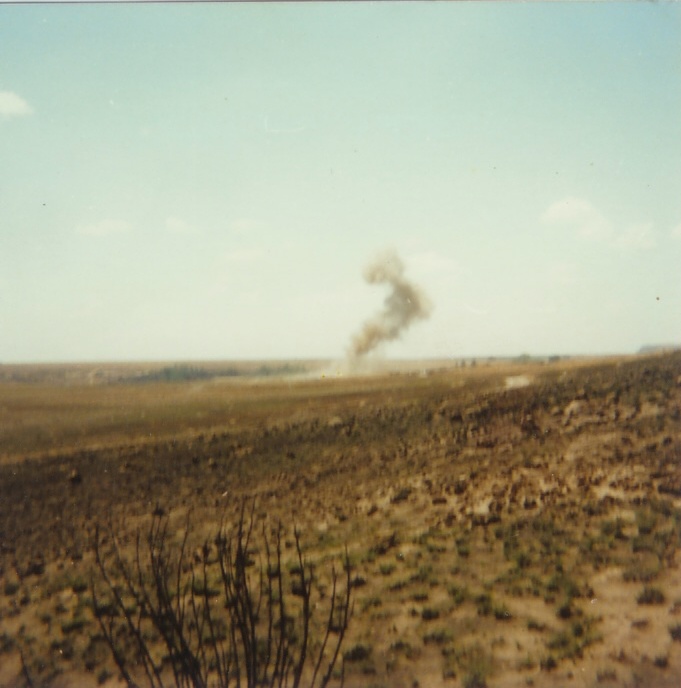 Pictures 6, 7, 8 & 9. an Alouette and sunset.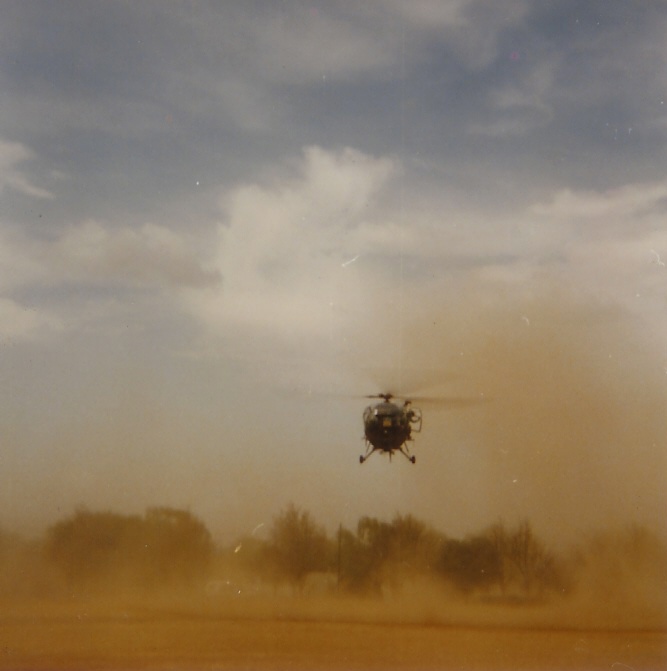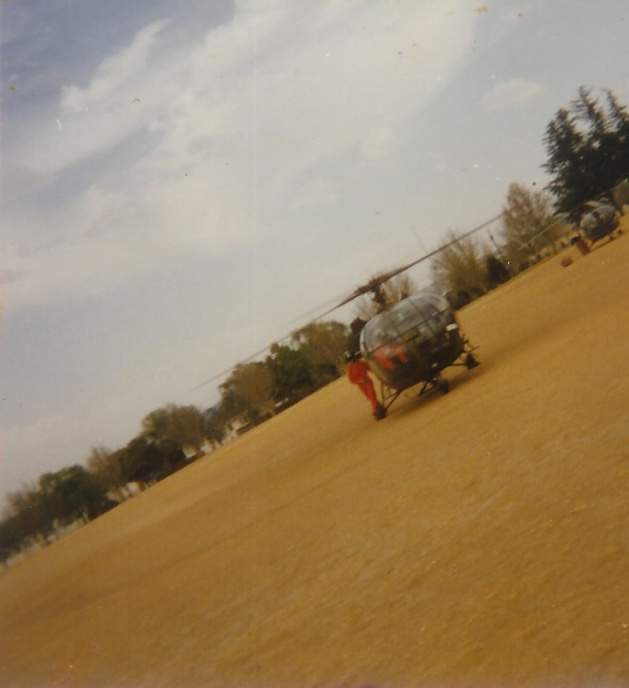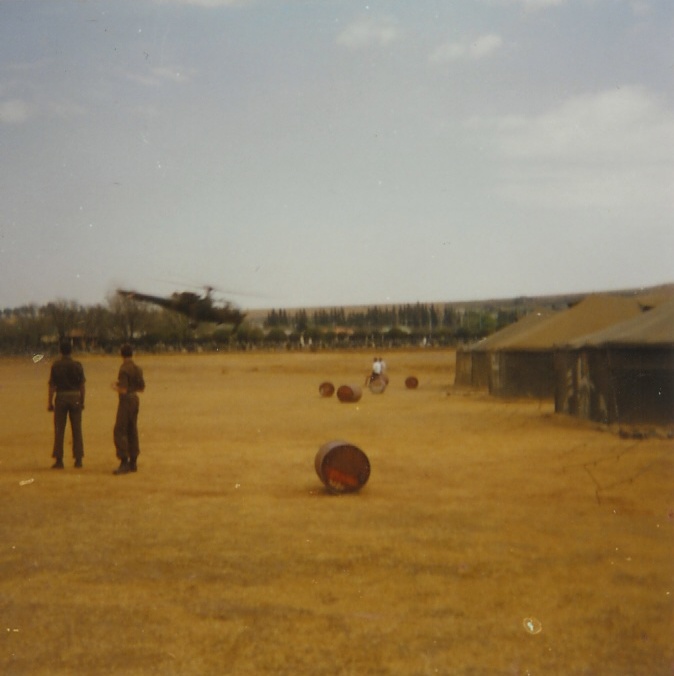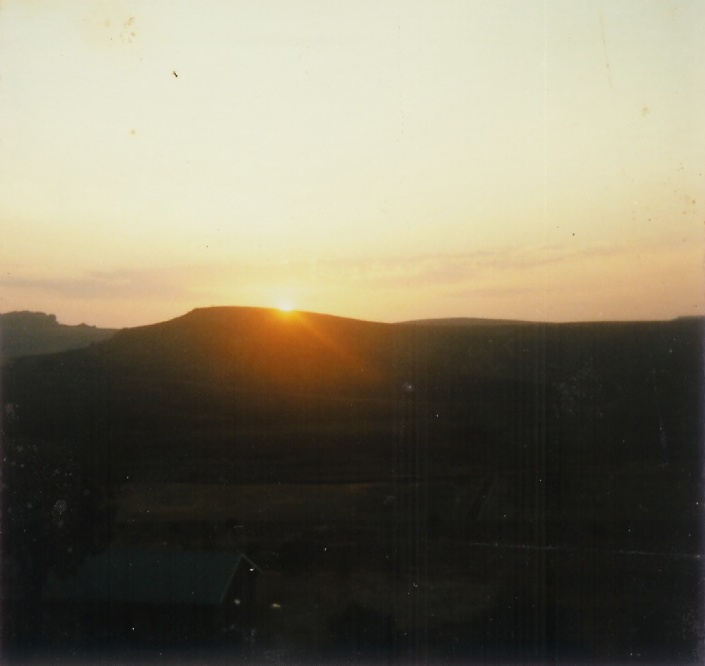 I think it was August when we went to Soweto for a month. This was an experience that changed my life and my view of the then current events for ever.
CHEESECAKE, this name will invoke a grin from most people that knew him, unless you were a person with rank at the time, then you might start crying. It is possible that he is still doing extra time for all his infractions of the military law. He had the most unique way of doing a pushup; it was nothing more than the slow up and down movement of his head. I saw this guy getting a Sergeant to almost burst into tears. Standing in a squad, the sergeant spoke to Cheesecake and he ignored the sergeant. The sergeant asked him, "Dink jy ek is fokken skeel?" meaning `Do you think I am cockeyed?' Of course Cheesecake answered, "Yes, Sergeant, did you not know this?" (He really was!) The Sergeant went into an uncontrollable rage and invented a whole dictionary of swear words and phrases that were new to us. Cheesecake started laughing at the Sergeant, who then asked him "What are you laughing at?" Cheesecake answered; "When you get that angry, your ears go like this," and he motioned with both hands cupped behind his ears moving them backwards and forwards like an elephant. The whole squad burst out laughing. The Sergeant was absent for a few days after that. At the end of second phase we held what they called `Regimental Practice'. This was to practice most of what we learned before going to the Border. During this event Cheesecake got hungry and stole the RSM's ratpack. That was the last time I saw him.
This signaled the end of second phase, we went home and were to report back after 7 days. The lucky guys got to go to the border, and the rest stayed behind in the good old SA.
Border duty
Sector 10
After landing at Ondangwa, on 11 November 1985, the door of the Flossie opens to reveal an intense bright light. The reflection of the sun on the white sand was shocking after sitting in the dark Flossie for such a long time. The midday heat was unbearable. We had to get on the back of open Kwe 100's (big truck with armored cabin). There were a few tires lying on the back and we were instructed to sit on them. Lying in the SWA sun the whole morning soaking up the sun, the temperature of the rubber was very high. Everyone sits and about 5 seconds later we were all standing rubbing our butts. The Oumanne, of course, thought this was hilarious! The trip to Oshikati went as well as can be expected on the back of a truck in that heat. Arriving at 25 Field Squadron, we were off-loaded and taken to tents at the western side of the camp.
About 20h00 that night the local defenders of the town decided to have same fun and let rip with a .50 in the guard tower just outside the camp. Instant panic! Corporals and Oumanne running into the tents shouting " Gate toe, ons word gerev! " meaning, to the holes we are being attacked. The problem was, we had no holes to go to. Then they started shouting " Waar is jou fokken staal dak, rower?" meaning; `Where is your F*****g helmet, newbie?' They had their fun for about ten minutes, and then after we all calmed down and made sure there was no bodies lying around, they started talking to us about the do's and don'ts of border duty. And they wanted to know what the women in the states looked like, because they had forgotten. Would we become like this? Never!
After a day or two, we were divided into groups again to go to the outside bases. I was going to Elundu. If you are a Sapper this is how it works; each outside base gets two sections and a Corporal - a section is 10 guys. We stay at one base while Infantry, Bats, SAKK and other units move from base to base every 4 to 6 weeks. We would be at Elundu from November 1985 to August 1986. Our main duties would be water purification, and mine sweeping for the convoys that take provisions from Eenhana to Nkongo.
Elundu
Transport to Elundu is by Buffel, armored anti-landmine personnel carrier. It was designed to take a section, 10 guys and a driver. You must sit and you must strap your self in with the safety belts. Arriving at Elundu, the Oumanne were waiting for their relief. There was a hand over, and off they went. They were going home and had no time to pull any pranks on us. The next day it all started to sink in; around you is bush and white sand. Because it is rainy season, the vegetation is green. If you arrive there during the dry season, it would be an ugly place. We had no Corporal for the first month or so, and there were no Section Leaders between the two sections. Amazingly, we all just went with the flow and it did not matter that we had no leader. We managed quite well on our own. We got a Corporal later on; he was a small skinny guy who did his job. We called him " Spookie" meaning, `small ghost', because he was very white and small, like Casper the Friendly Ghost.
This is how I remember Elundu, awesome.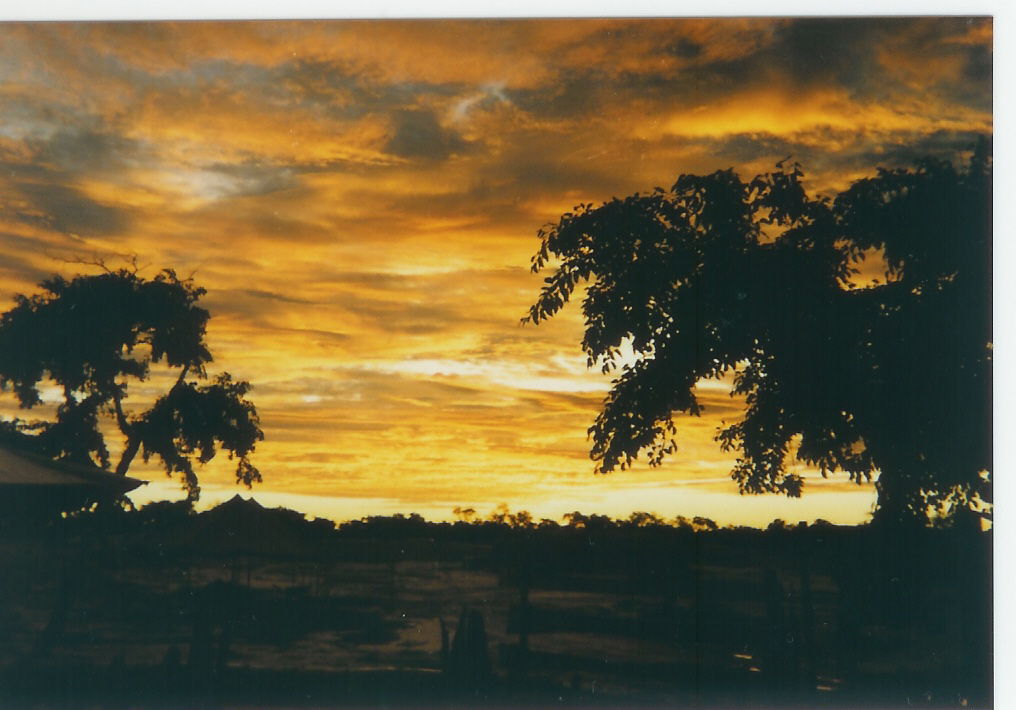 Sappers' Valley was the name of our part of the base. This included two tents and the water purification area consisting of pumps and S tanks. We would pump water from the shohna (small natural dam) just North of the base, into the S tanks, purify the water and pump it into the water tanks for use by the rest of the base.
Sappers Valley, pictures taken from top of water tank.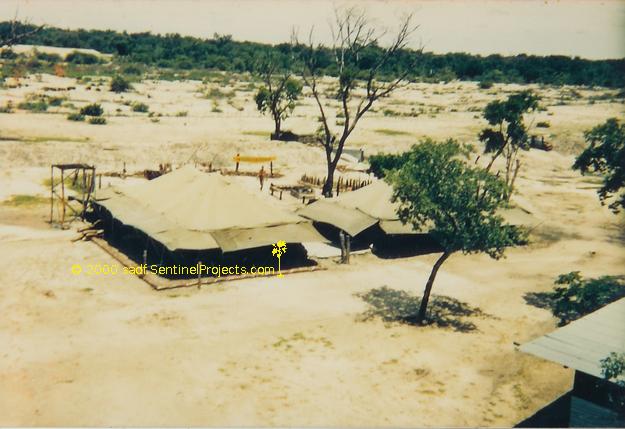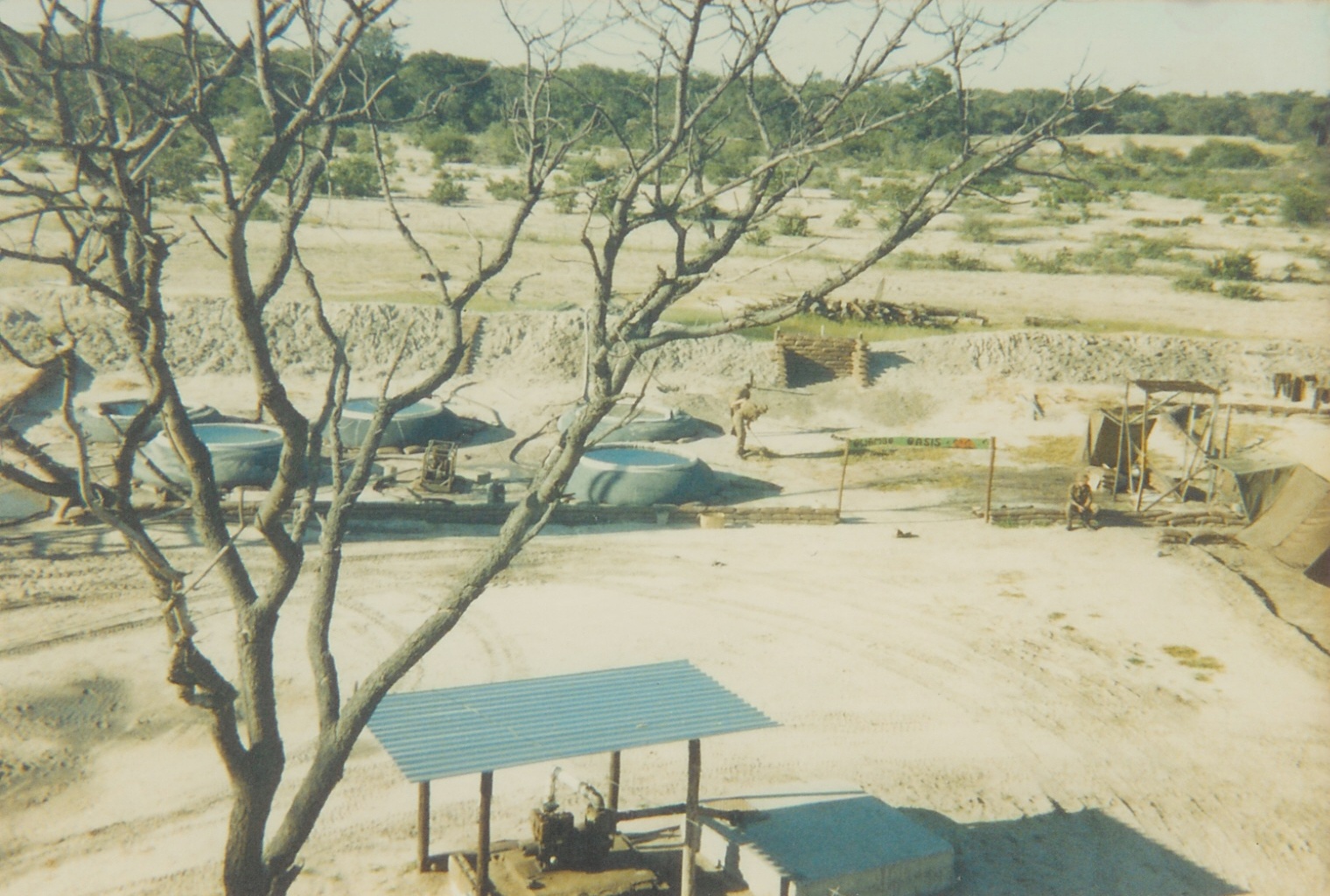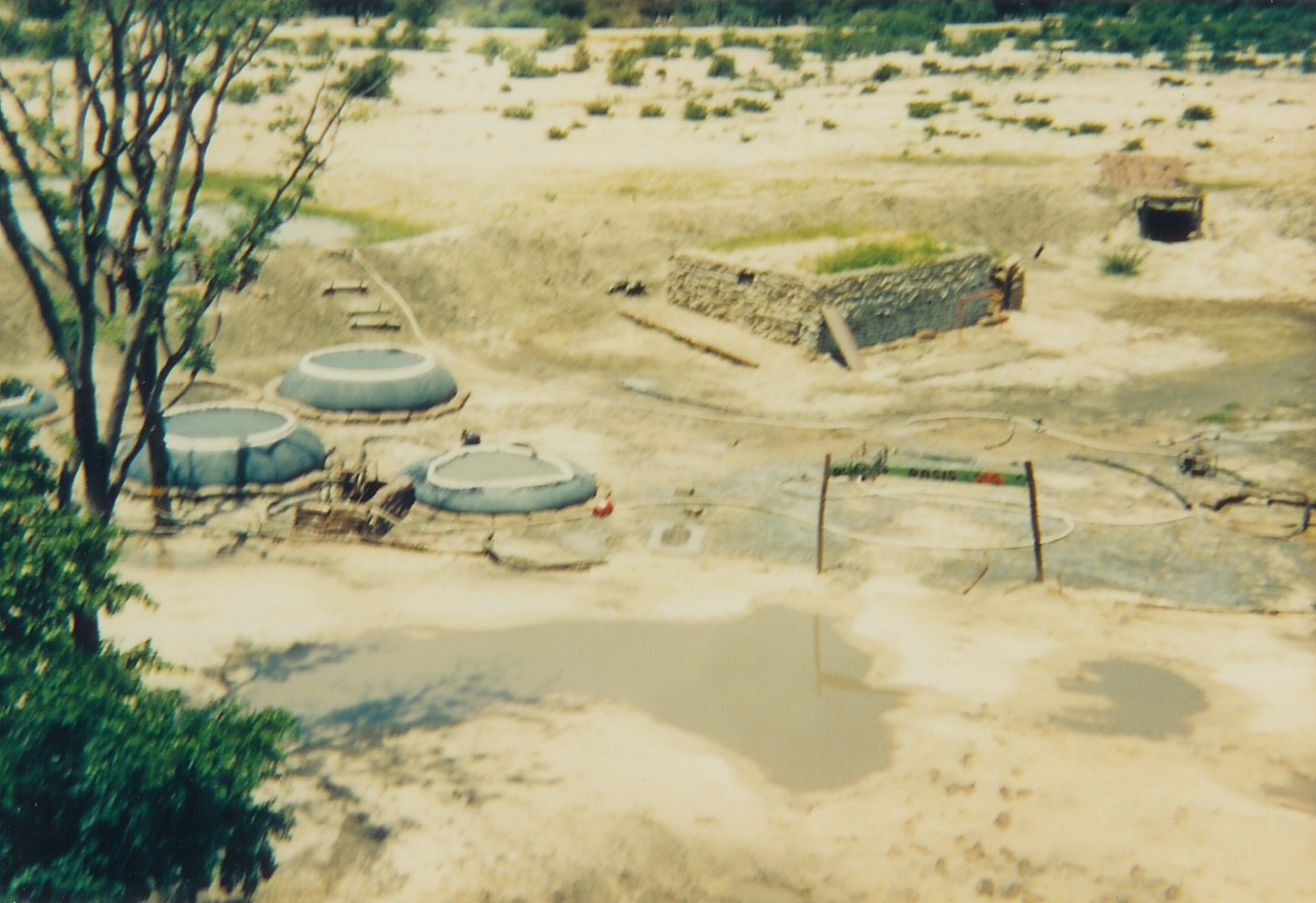 Shohna just North of the base.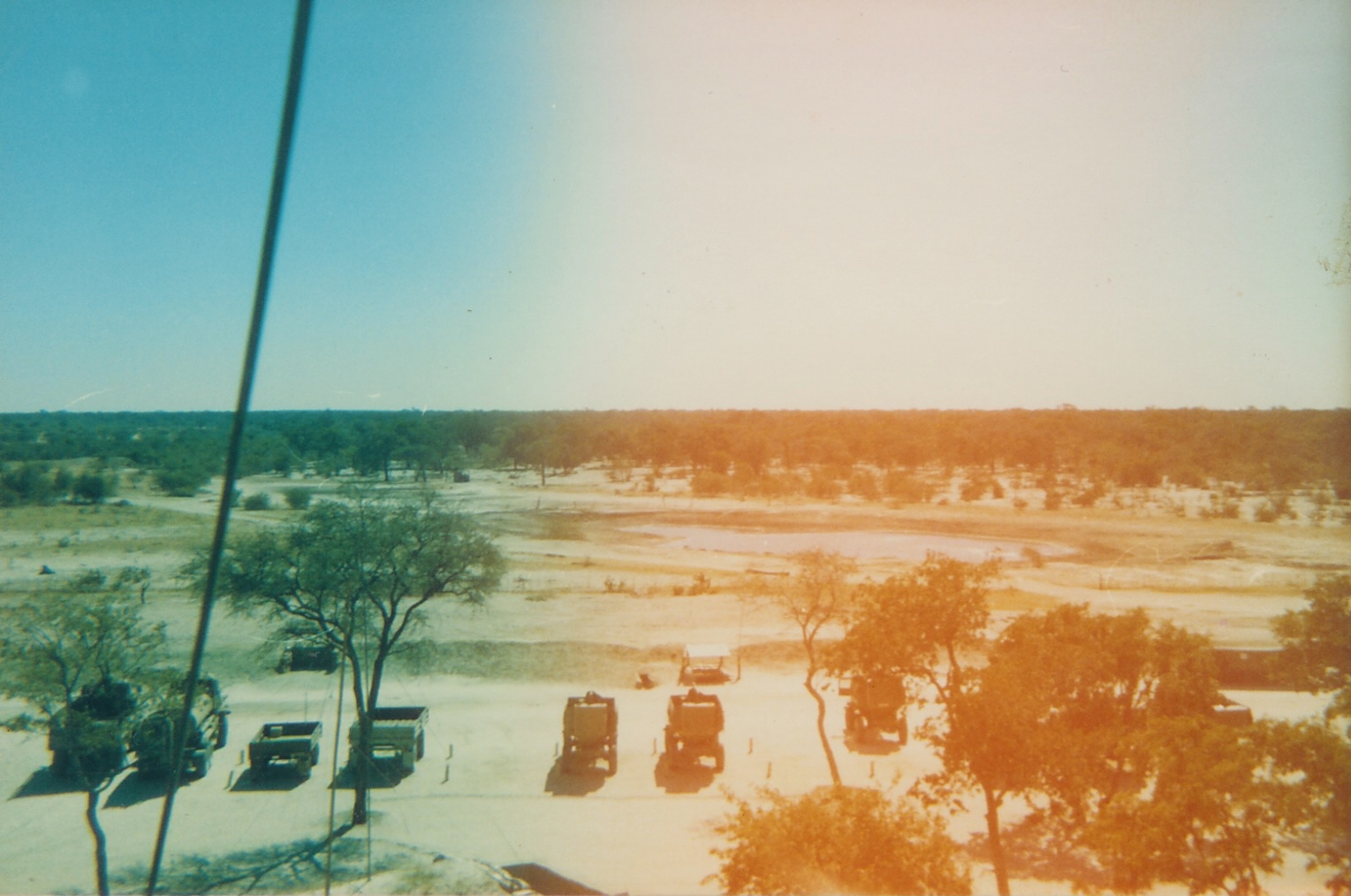 This CO from Eenhana flew in once month to do a camp inspection.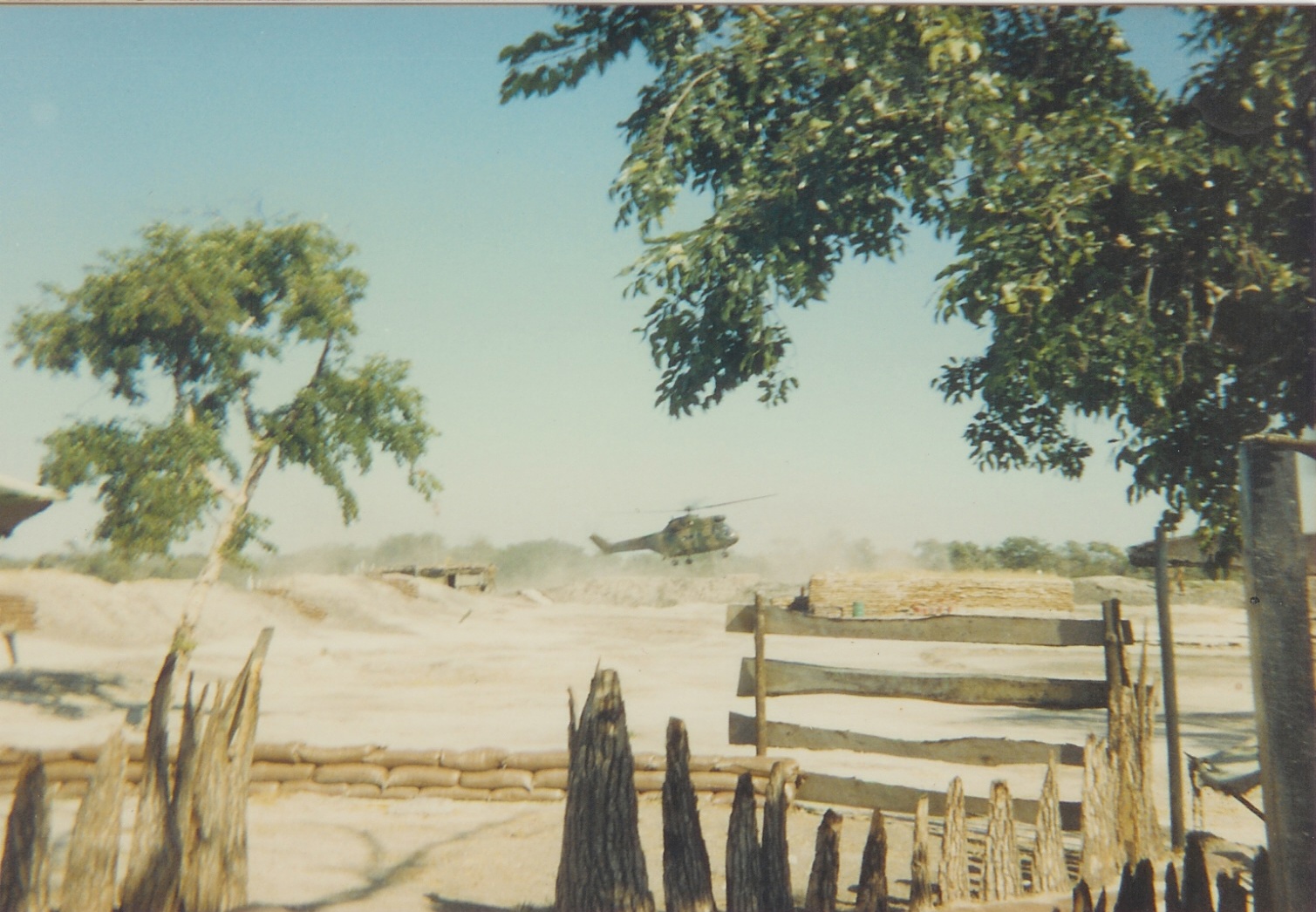 Chopper pad, on the West end of base.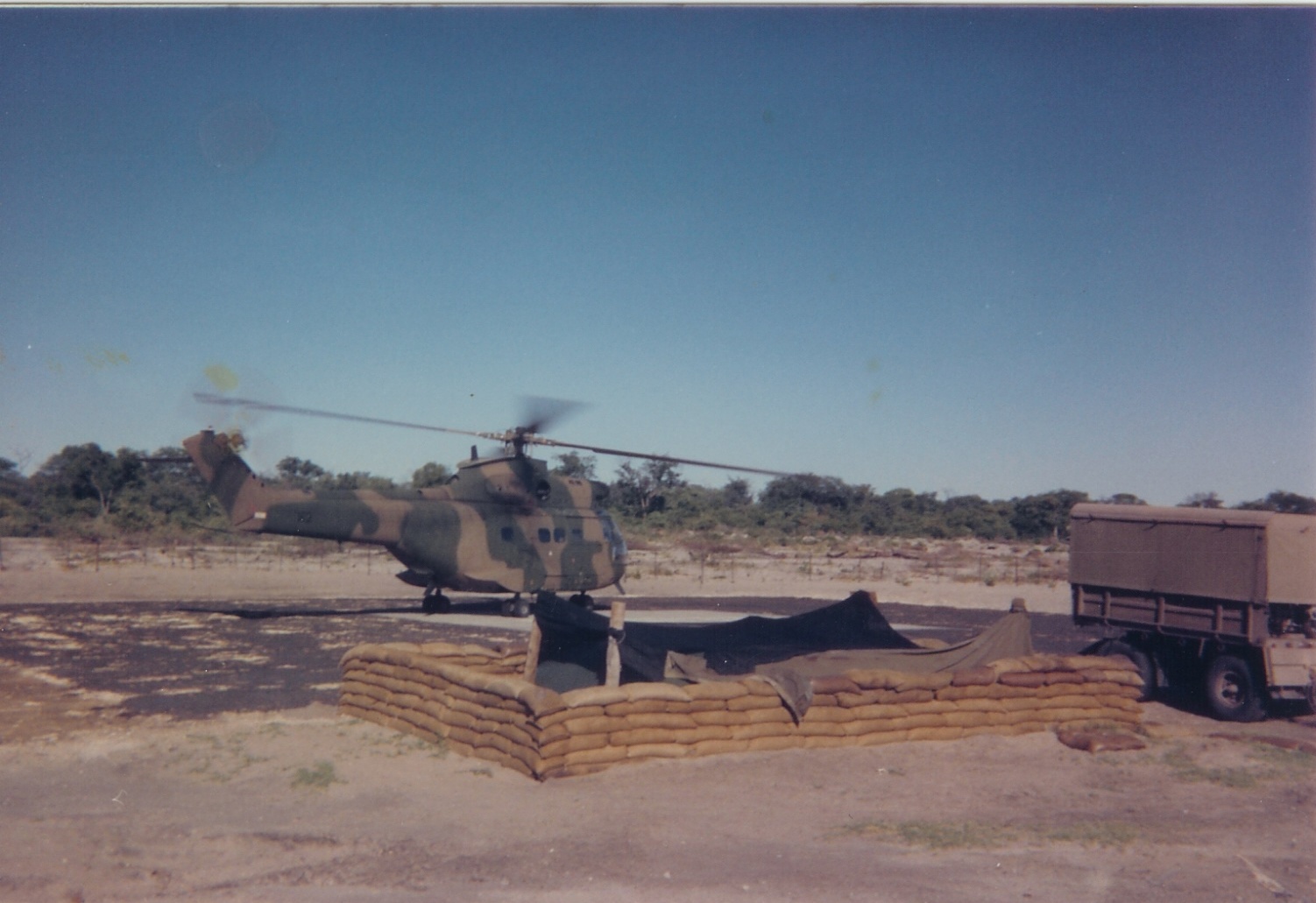 Gunships would come and go on a regular basis for various reasons, fill up with fuel, pick up 20 mm ammo, drop off or pick up casavacs.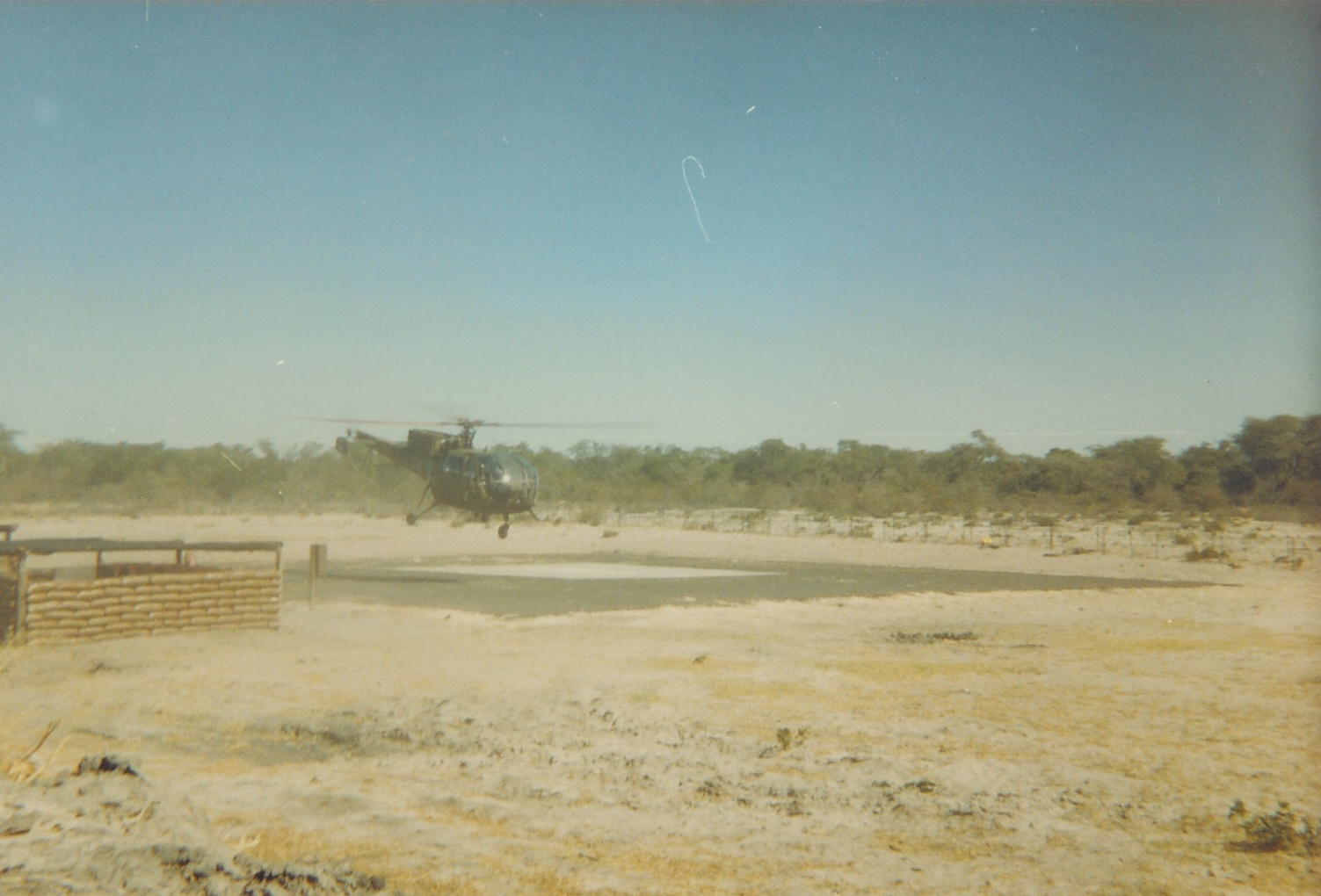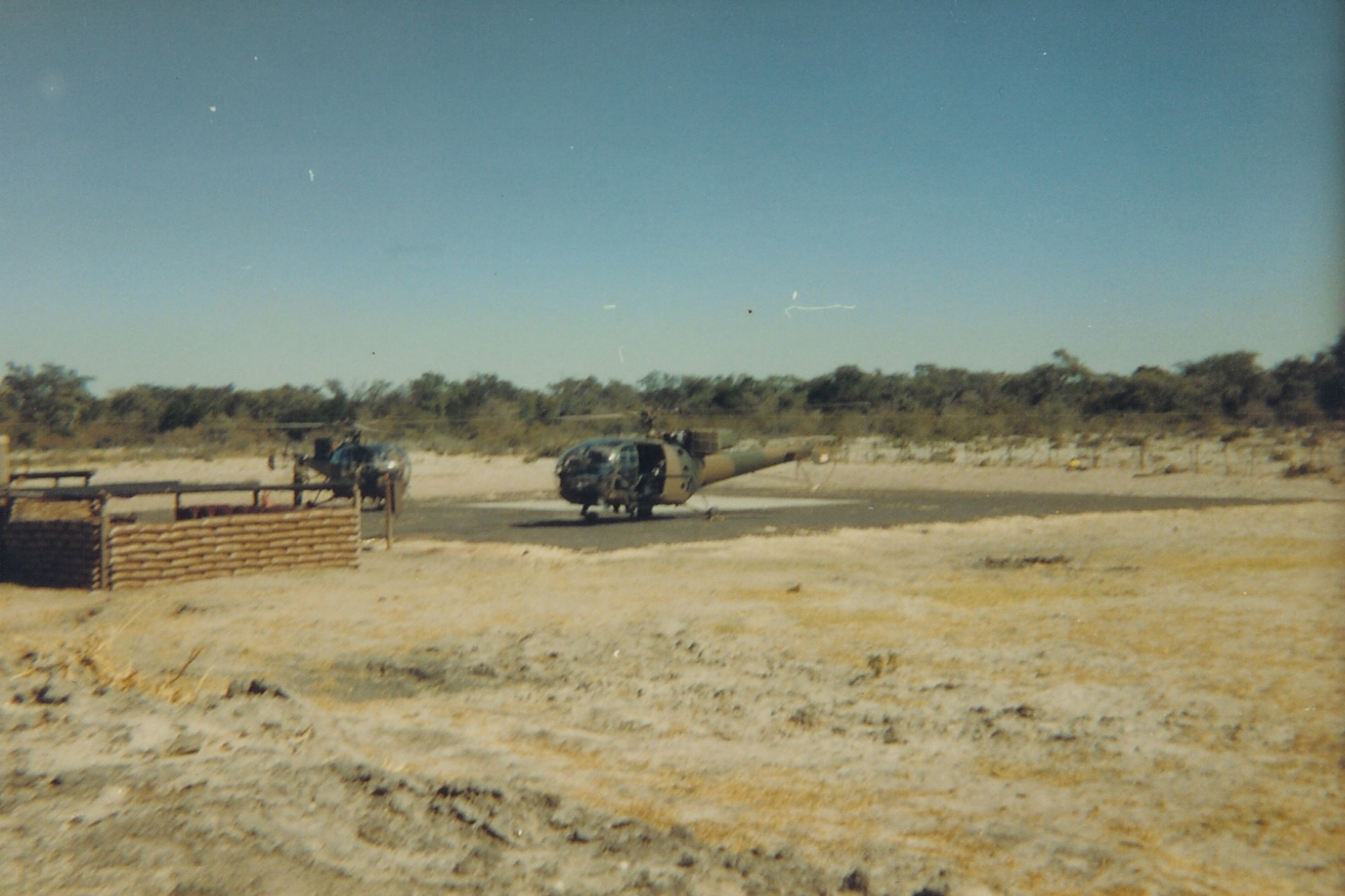 Practice with patmor and rifle grenades.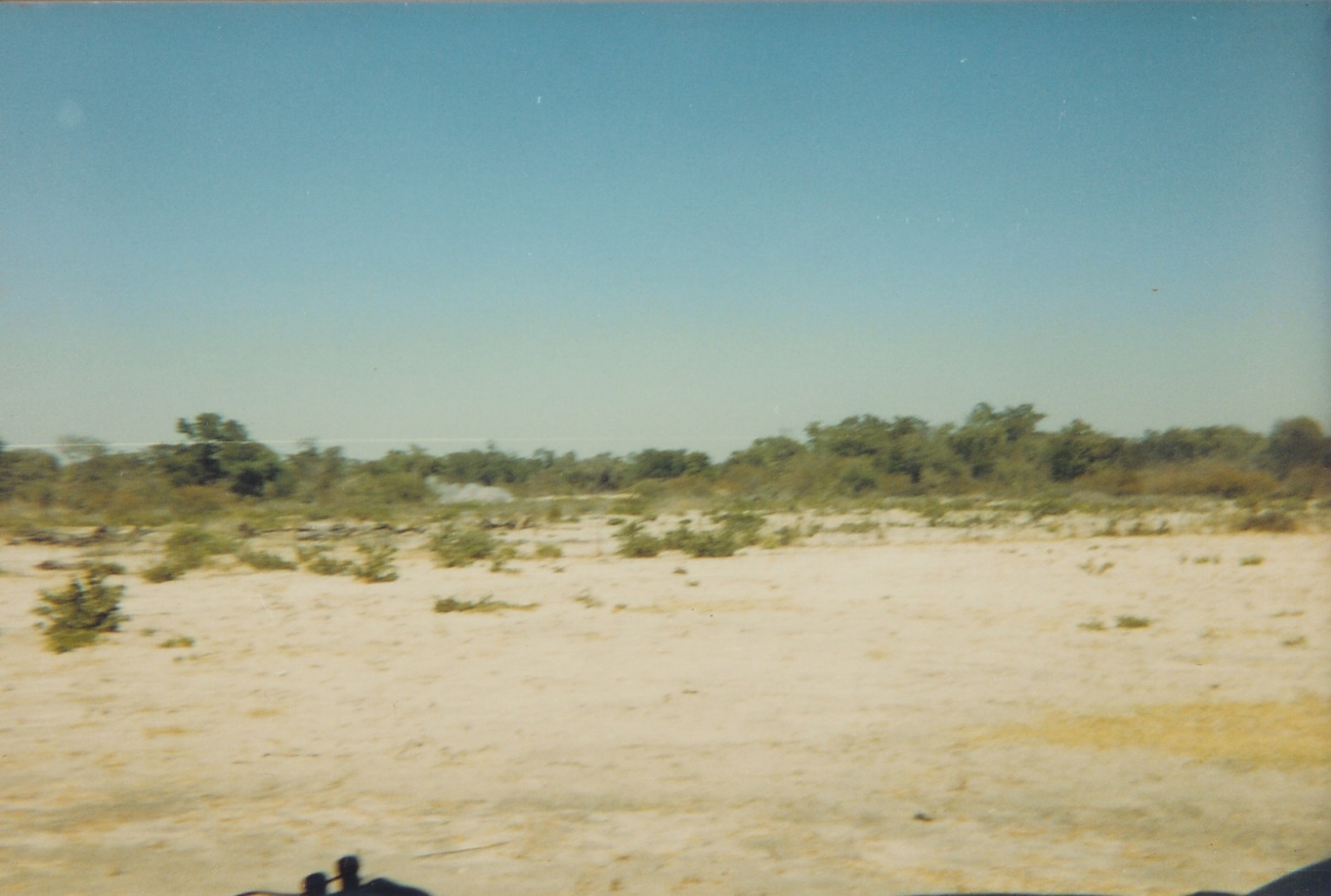 Water tank with Buffel and Kwe water tanker.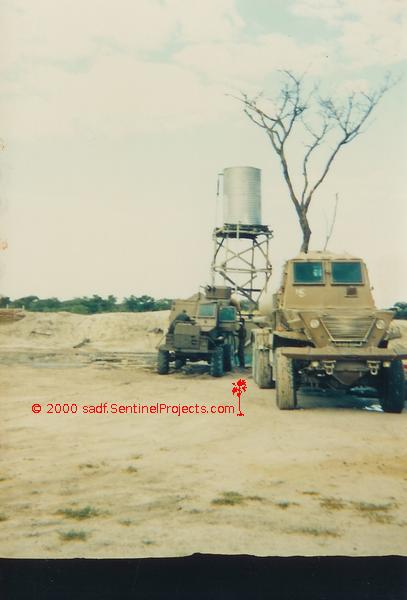 The pets, or, in some instances, your best mate!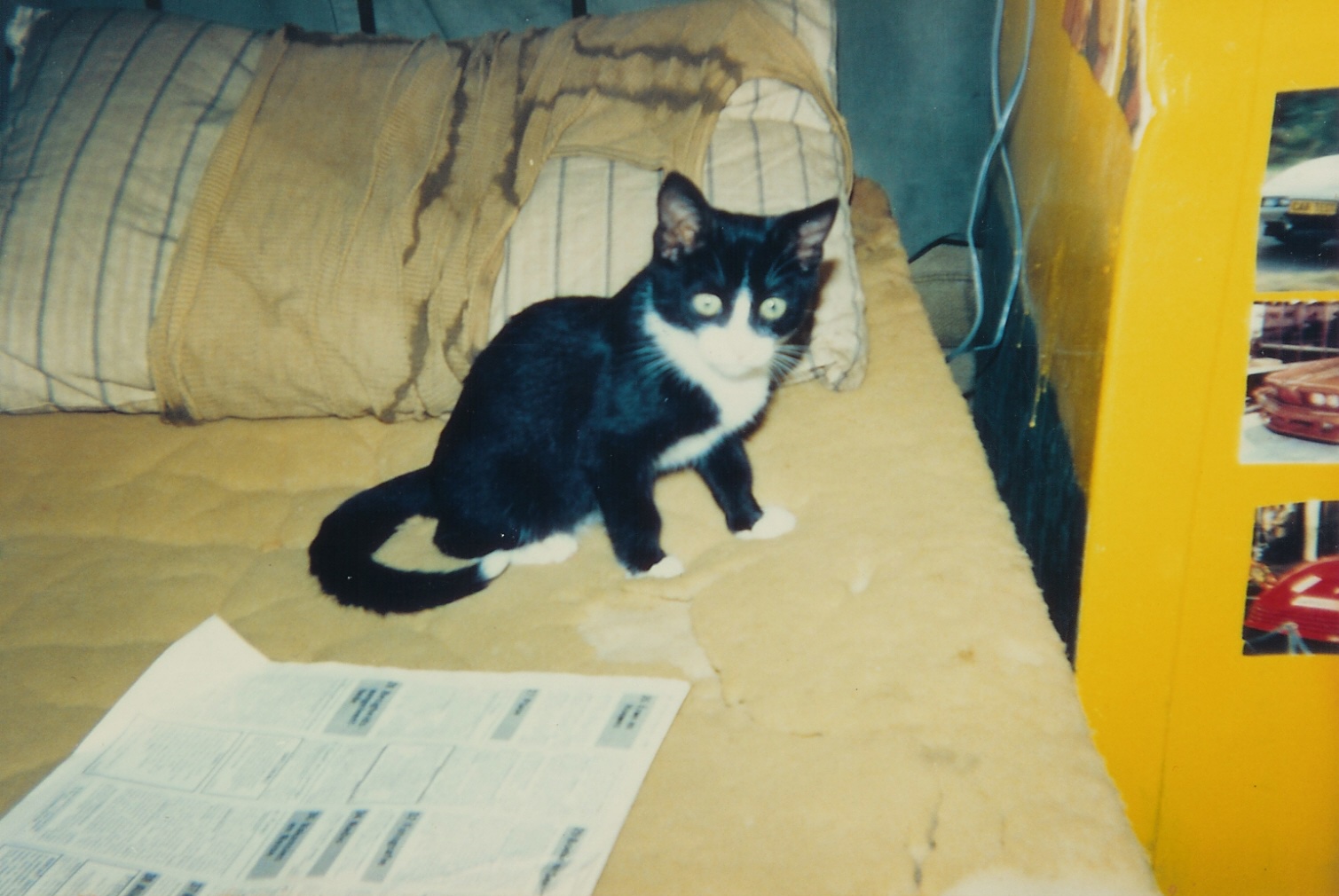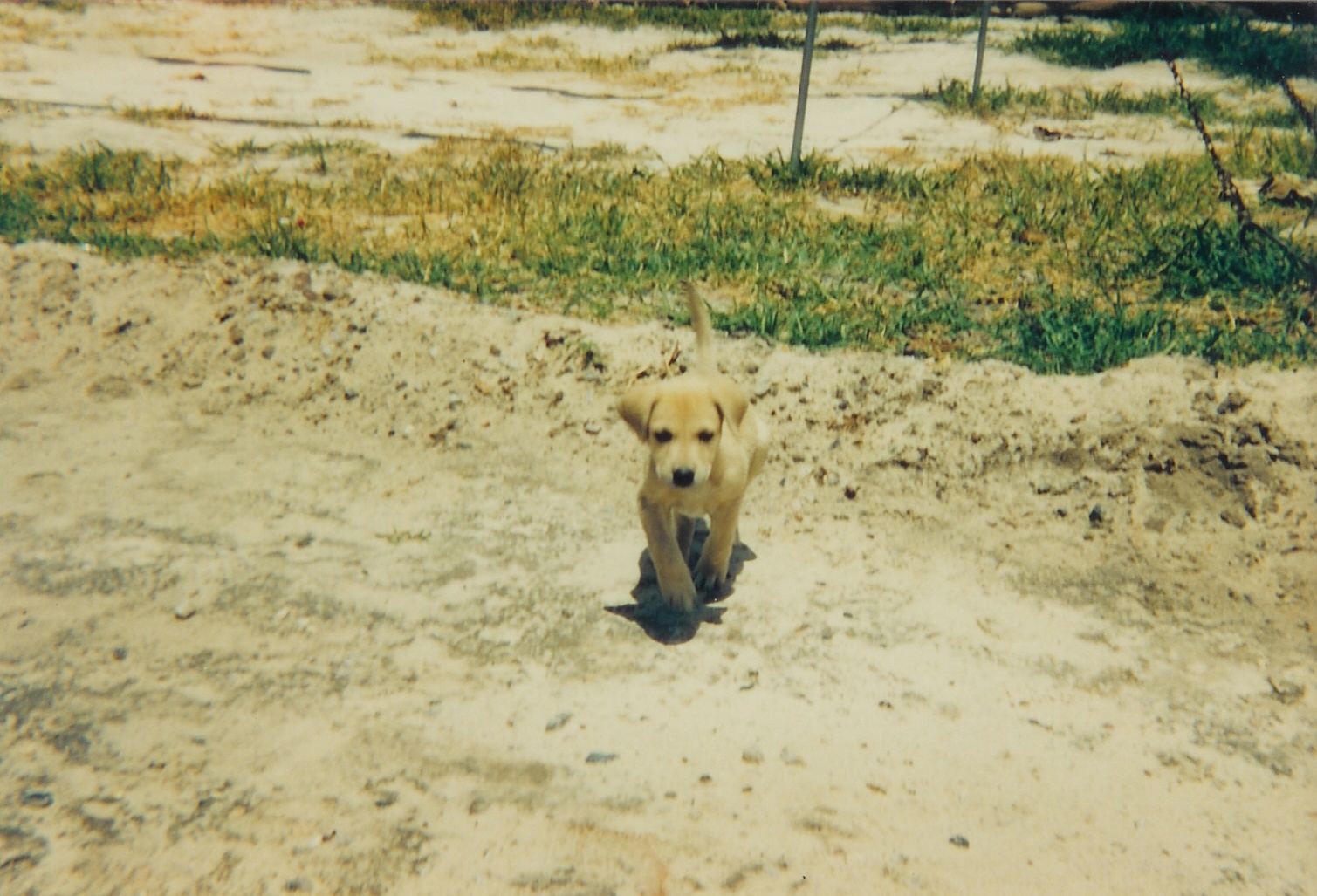 PE 4, plastic explosive no 4. This for me is the best part of being a Sapper; you get to blow shit up.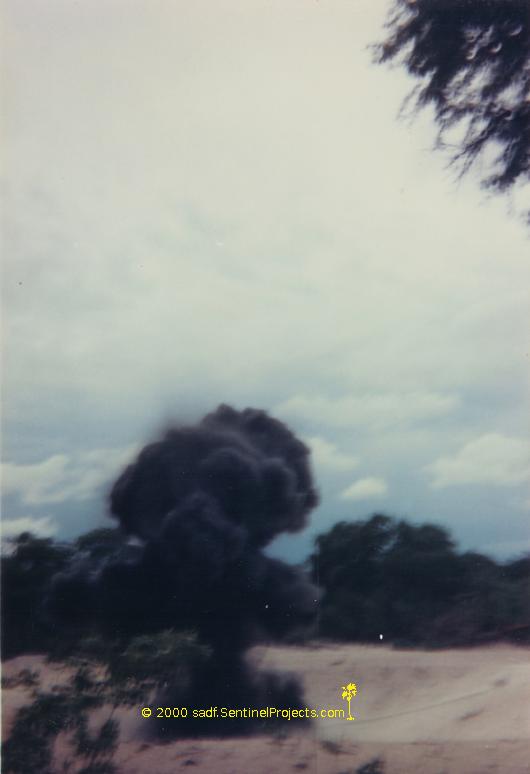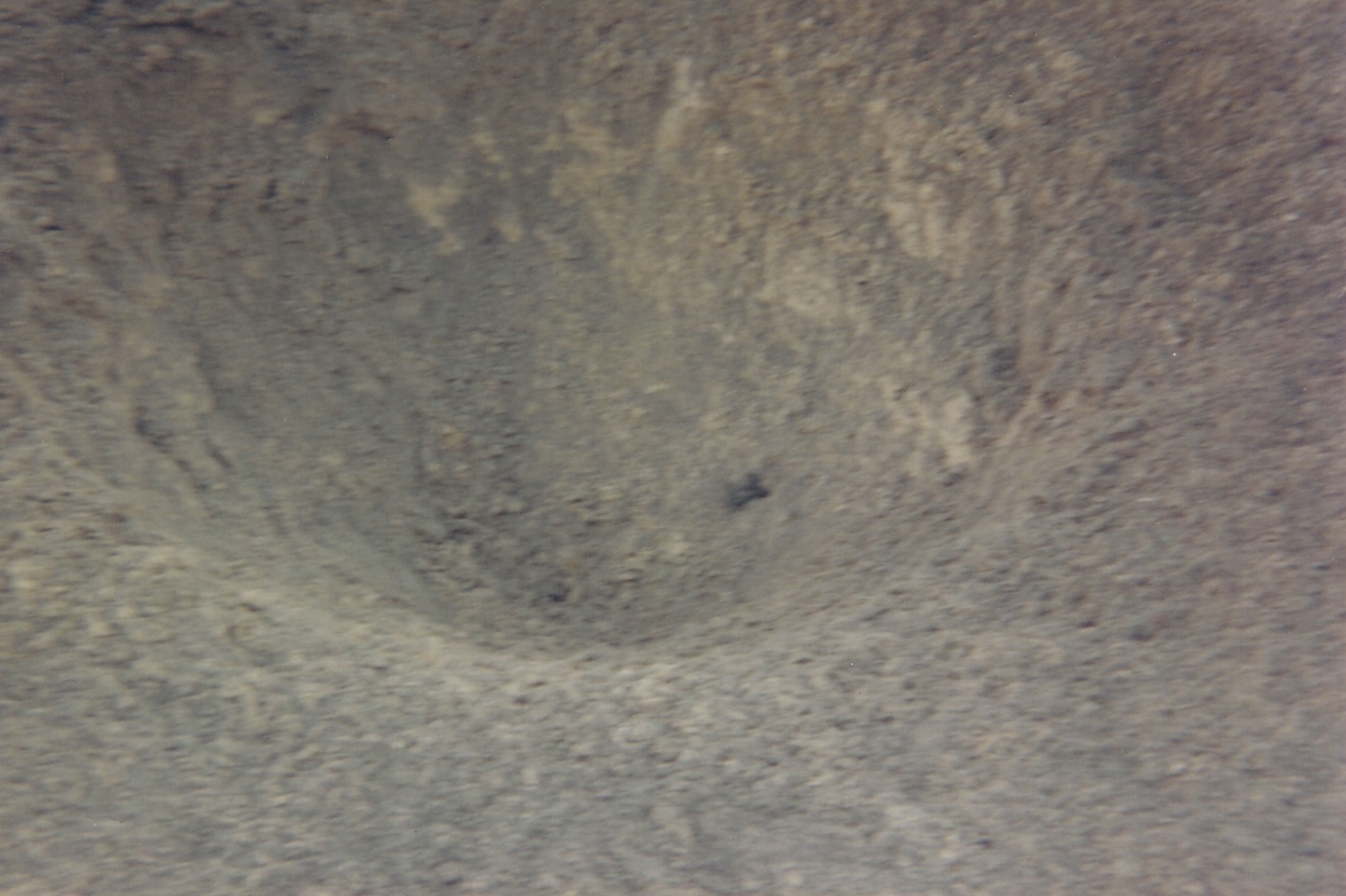 Mine sweeping, is probably the main reason for Sappers to go to the Border. We would walk the road half way to Nkongo (about 40km) once a week and half way to Eenhana (about 14km) twice a week. We meet the guys from the other base halfway and turn back. We would alternate between the two sections, one week you do Nkongo and the next week is Enehana. It works like this; five guys at a time walking in a diagonal line across the tracks. You would walk with mine detectors and your R 4 rifle. Infantry provides cover by walking alongside the road on both sides. The mine detector weighs about the same as a R 4 loaded with a full magazine. The trick is to get the mine detector balanced in your hand so that you don't have to grip it tight or need to apply force to lift the front or rear. After several months, the team gets the hang of this, and the walking becomes much easier. If you get into the rhythm, it is amazing how fast you can go. If I remember correctly, our best time on a 7km stretch was 30 minutes. I found that carrying your R 4 in the other hand balances your body nicely and makes for a comfortable walk. I enjoyed the walking and always competed with the guys giving protection, the closest competition came from one of the infantry guys from 7SAI (I think). One time we walked away from the rest of the guys by about a km. For some reason we did not get into trouble for this.
For about 32km the road is straight as an arrow, see pictures below. The surface is compacted very hard and any person who wants to dig a hole for a landmine should bring a jackhammer. The colour changed from red to white, and the reflection of the sun off the white surface was extremely bothersome.
At the Nkongo halfway point we would usually find some donkeys feeding and they would provide lots of fun while waiting for the team from Nkongo to arrive. First challenge is to catch one, then to get on, then you must get this animal to move and once it starts moving it is rodeo time! The longest ride would result in approving cheers from the spectators. As with all sports, this one has injuries as well. I held on too long one day and the donkey run through a thorn bush, with me on his back. All I can say is; `Do not try this at home!'
The road to nowhere.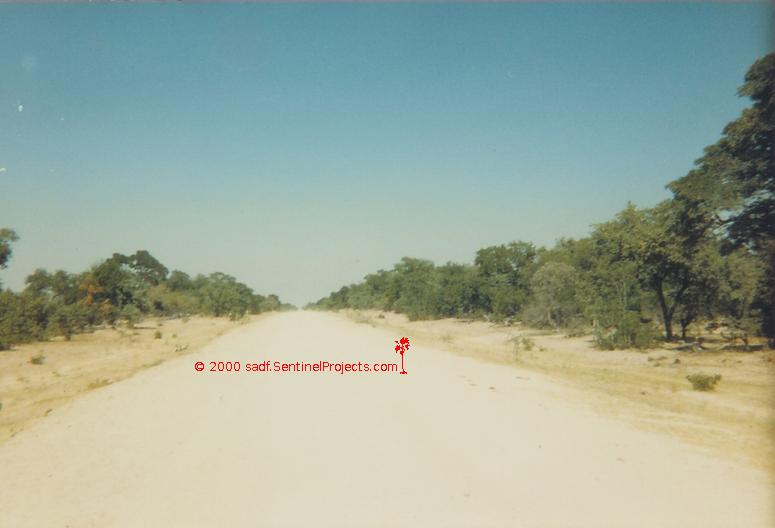 One of the teams in action.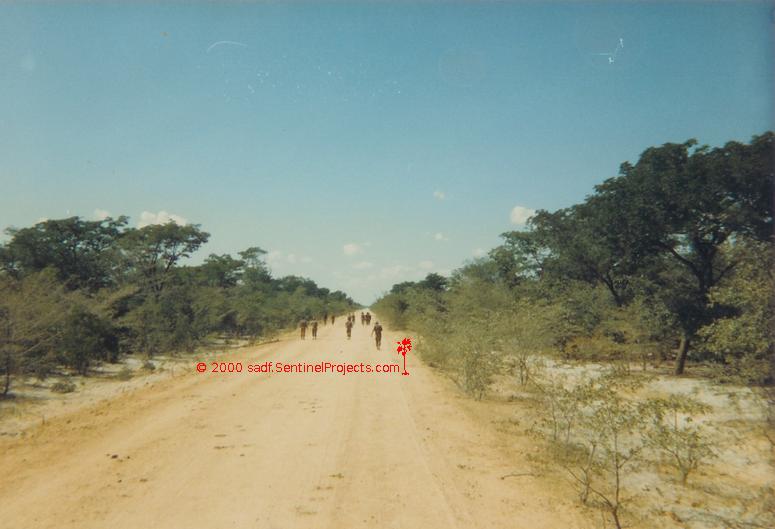 Half way point where we met the guys from Nkongo.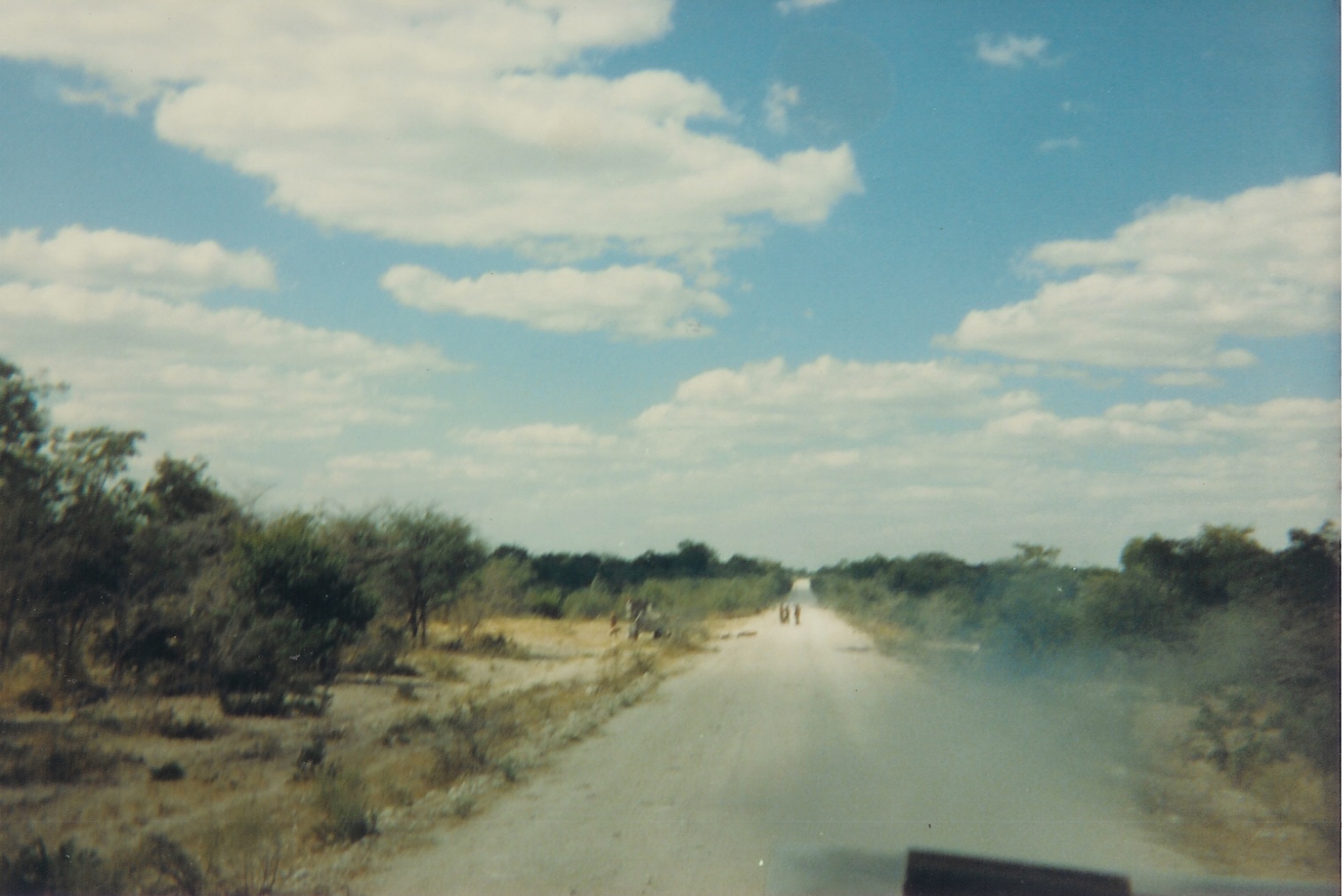 Frustration is, when you are walking and Koevoet comes roaring past in their Caspers. Even though we can all see them going down the road we still have to sweep it. A couple of times we just jumped on the buffels and took off after them. You just have to hope that the spotter plane "Bosbok" does not come over and catch you. We never found a mine on either road in the 9 months we were there.
On one occasion we swept the road to Eenhana and had to wait for four hours for the other team to arrive. On arrival, we saw the Infantry Platoon commander, a Lieutenant, was new and fresh out of the States, and he stopped for every small little thing that looked "suspicious". One of those guys that cannot use common sense and has to follow the book word for word. Pottie, a fellow Sapper, who was quite big and had a full beard, came down on this poor Lieutenant and scared the crap out of him, promising him that he will do all sorts of nasty things to him if he ever made us wait like that again. The Platoon Commander with us, choose to say nothing because he was just as angry at having had to wait. Later on I would realize that it was incidents like these that kept us going, because for the next two weeks we had something to joke about and laughter was the one thing that kept us sane.
During our time at Elundu there were two SA Infantry platoons, 7 and 1 as well as Bats, SAKK, 911 Battalion, and Venda who come to provide protection. Each one of these had there own way of doing things. It was mostly uneventful apart from the entertainment supplied by some of the more colorful characters that are always part of every group.
The Commanding Officer and second in command from 7SAI took pleasure in handing out corrective training to the Sappers, after the second incident we went out of our way to give them reason. Then we would see who can get either one of them to crack first. This turned out to be great fun. It ended after the second in command fell from the bin of a buffel. That's more than a 2 meter drop. In a cloud of dust, he jumped up and that was the end of it, maybe the knock on his head made him come to his senses.
SAKK would start drinking and then things start getting scary. One of the Sappers managed to get them angry at us one night and being outnumbered 200 to about 20, we were standing guard that night with our backs to the bushes.
101 Battalion OM
Within 101 Battalion there was the well known "Romeo Mike" Reaksie Mag (Reaction Force) and also the less known "Oscar Mike" Opvolg Mag (Follow up Force). From time to time, these guys would stop by the base for supplies. During a visit from OM in February 85, my life changed dramatically. The Platoon Leader was a Staff Sergeant and he needed a Sapper to go with him. I jumped at the opportunity and volunteered before he could finish the explanation. This turned out to be the best decision I made in the two years. This started a good working relationship, and I went out with them several times for two to three weeks at a time. This is the kind of experience that you cannot equal; these guys were the real thing! There were only three white guys; the Staff Sergeant, the Medic and myself. He had a white Alsatian named Alaska; this dog was the best trained and disciplined dog I have ever seen. The bond between them was extremely strong.
OM was used, amongst other things, to follow up on specific information. This would take us to various places and situations; we went from one side of Ovamboland to the other and into Angola. The Staff Sergeant had taken part in Ops Protea and one time, when we were close to that area, he took us to where the two bases Moscow and Vietnam were. There were still some trenches and underground bunkers' visible.
On several occasions I joined in chasing spoor. Those people who have done this will know the feeling, the only way to describe it is `extreme adrenalin rush'! The skill of the trackers is unbelievable! They are very good! The system they used worked very well and once a spoor is identified, the perpetrator is run down with a success rate of about 50%. One or two guys will run on the spoor with the Command Buffel, with a .50 Browning machine gun, close behind. One buffel either side and slightly forward, and the other two would go either left or right for about 500 meters and then forward as fast as possible for 1 to 2 km's and then cut across to try and find the spoor. If they are lucky and find something they would radio back and the tracker will jump on the buffel and advance to where the spoor was picked up. This leap-frogging would be repeated as long the spoor as clearly visible. No person on foot can out-run this system. Rain would be one of the few things that could save them.
To flush out the enemy, I would detonate 4 kg's of PE 4. We would make a lot of noise and take off at high speed. The next day we would return to see if there were any curious terrorists in the area, who had come to investigate the explosion. Much to my surprise, this actually worked on several occasions. We would have a cooking fire every night, and some nights we would shoot a fire plan with the .50, 60mm patmor and small rifles. Some of the mortars do not detonate in the soft sand, and obviously I would have to dig them out of the sand and destroy them with a candle (225gr) of PE 4. Once again I was amazed by the ability of these soldiers to find these unexploded mortars the next day. You don't see them because they go into the soft sand, sometimes up to half a meter deep. We do not leave until all of them are accounted for.
Occasionally we would meet up with Koevoet. This proved to be another opportunity for me, because I was borrowed by them a few times. After working with Koevoet as well, I considered myself to have seen almost everything there is to see during Bush warfare. I was surprised by the discipline shown by Koevoet; a short parade each morning for prayer and to keep everyone informed of the plans for the day, and even though there was rank, it was not used to look down or to belittle others. Respect was shown to each and every person that deserved it, unlike the SADF. That is probably why they were so effective.
Take an Allouhette helicopter, mount a 20mm canon and put a skilled gunner behind it and you have a Gunship. I saw them in action a few times and believe me if I tell you that you do not want them coming for you. They would work together in pairs, flying in a circle opposite each other above the target, and shooting down, pinning the target down where they found him. Needless to say that hiding behind a tree when the other guy has a 20mil with HE rounds does not really help. The results could be quite gruesome on some occasions.
The Alsatian called Alaska.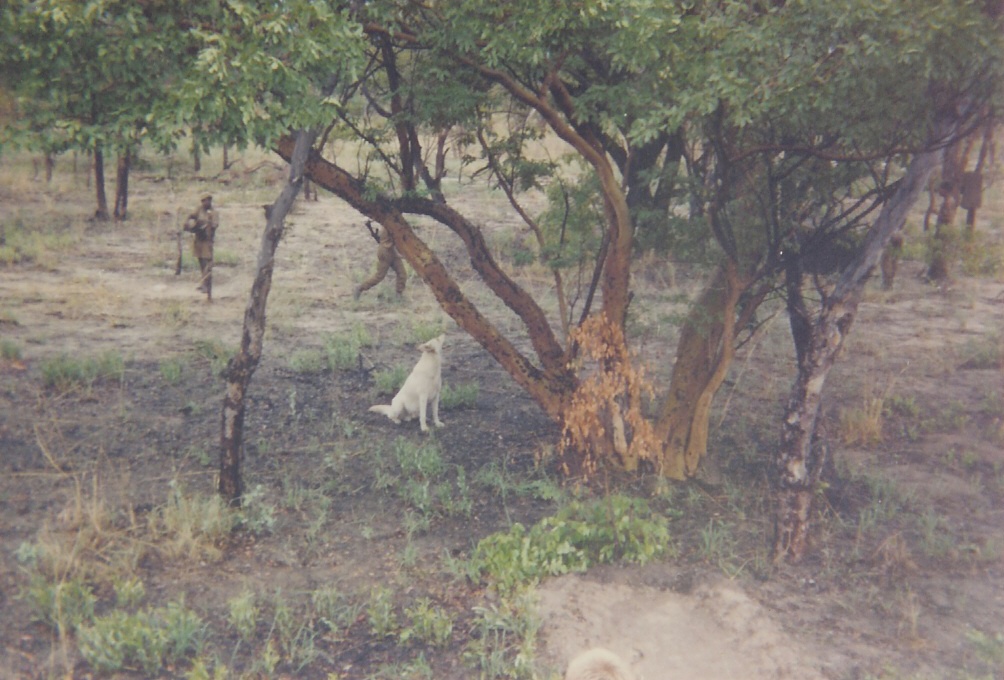 The Border between SWA and Angola.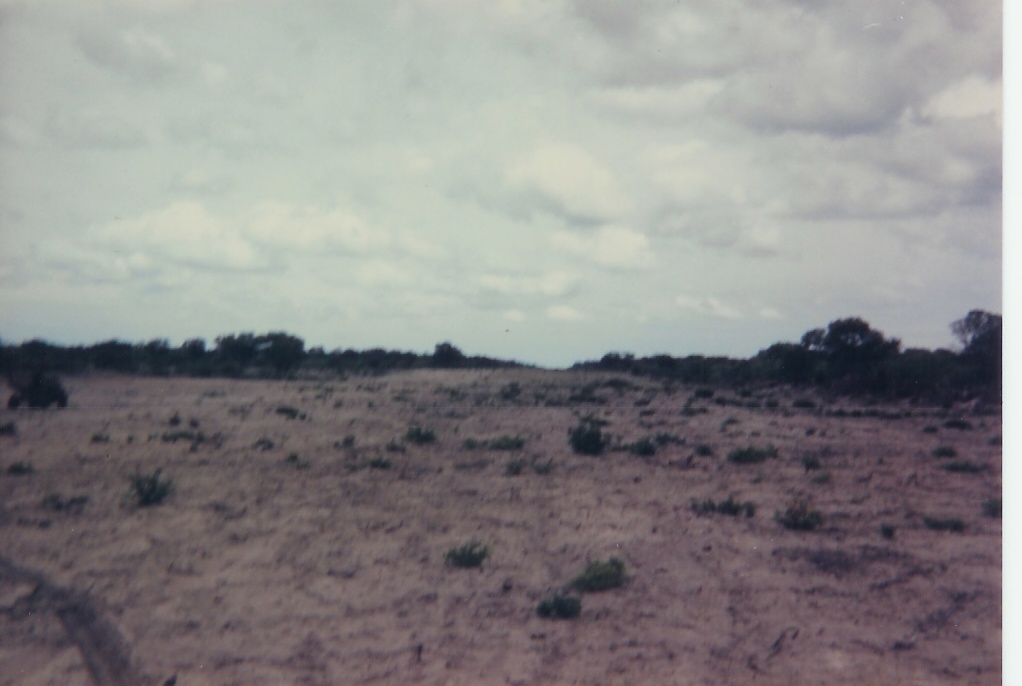 Abandoned farm house.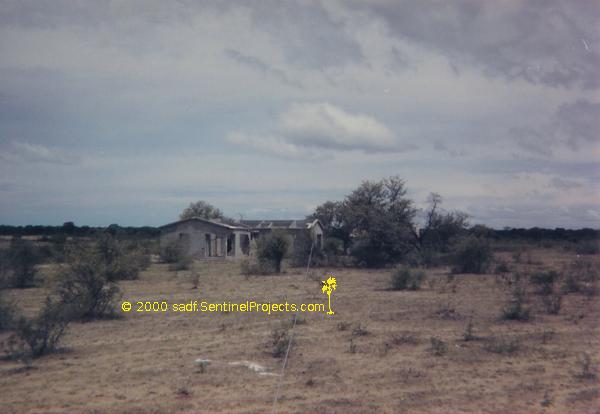 The Bush, somewhere in Angola.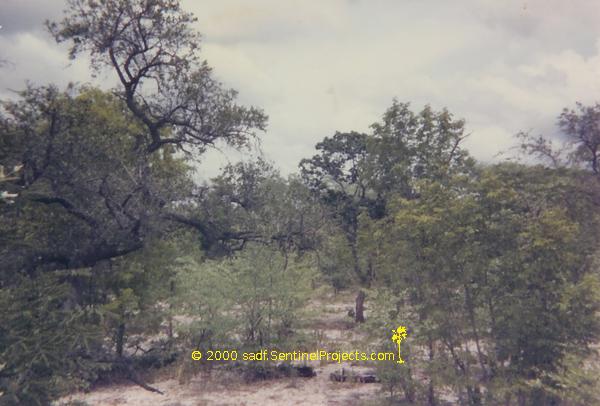 A kraal. This is where the local population live.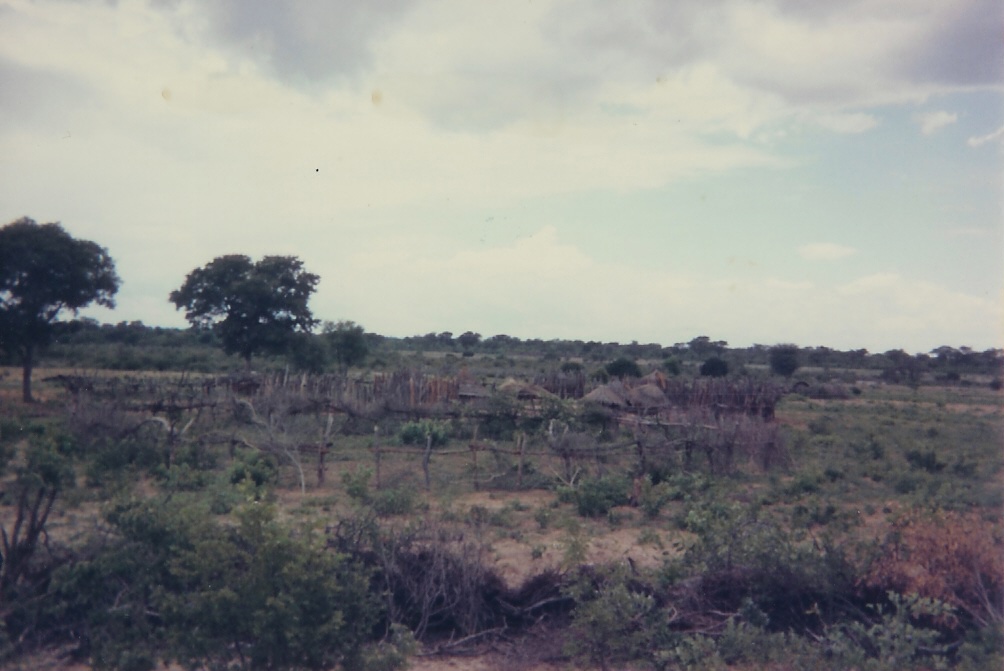 Eventually it was August and time to go home for a 21 day pass.
This was the first time in my life that I felt that I was leaving home, and I could not wait to get back. At this stage I was seriously considering joining Koevoet or SWA TF. Fortunately that was not going to happen. Maybe if it became a job it would not have been a really cool adventure.
Link to Part Two
---
Published: 16 June 2006.
Here is a shortcut back to the
Sentinel Projects Home Page
.