Chapter Six
Return to Windhoek
Back to South West Africa Command.
Unfortunately, mine and Johan's time at Okahandja was coming to a close, thanks to moves back at the base camp kitchen in Windhoek. Staff de Souza was evidently not that happy at our apparent freedom at Okahandja (the long weekend off over Easter was one gripe), and he decided to move us back to Windhoek and replace us with two other Privates, Le Roux and Godfrey. The first we knew about it was when the supply truck arrived from Windhoek one morning at the beginning of May with them on board, and with orders for us to pack our things and return with the driver.
I believe this was an attempt by de Souza to get rid of two of his less desirable chefs, as Godfrey and le Roux were very lazy, and a constant source of concern to him. I later visited Sergeant Packett in Okahandja towards the end of May, on a weekend off, and she was quite vocal about how unhappy she was to lose us, and how much trouble she was having with le Roux and Godfrey. Be that as it may, back to Windhoek we were forced to go, and with this move went my projected promotion to Lance Corporal.
On reporting at the base camp again, I was relieved to hear that I wasn't to remain there for long. A new Officers Mess and sleeping quarters had been established in a suburban house somewhere, and I was placed under the command of Corporal Venter, who was to establish the kitchen there. Staff de Souza was at this time a real pain, and spent most of his day running around screaming at everyone, so it was great to escape the base camp kitchen and his vitriol.
Officers Mess, Windhoek - May to June
With the Officers Mess being situated nowhere near the base camp, it was decided that I would have to be billeted there rather than back at the base, so once again I fell on my feet! I was a little apprehensive to be billeted at a house with nothing but officers for company, as I could see me becoming something of a personal slave to them all. It didn't turn out that way though.
For a start, my billet turned out to be the garage at the house, which I had entirely to myself. It was a lot roomier than our tent back at the base camp, but also a lot colder as it was not designed to be lived in, and had metal walls and concrete flooring. But, I still had that vital space between the officers and myself, and we got along fine.
The latter were all National Servicemen like myself, and all non-combatants too, such as doctors, lawyers, dentists and accountants. The highest rank was Lieutenant and the lowest 2nd Lieutenant, so there was quite an informal atmosphere at the house when only they were there. This was most of the time, and because we came from such different backgrounds really, they left me alone and I did the same. Besides, they mostly worked at outlying locations anyway and were not at the house during the day, except for their midday meal.
Main meals (lunch and dinner) were initially prepared by Corporal Venter, with my assistance, while I had to prepare breakfasts alone. There were only about ten officers at the house at any one time though, so this wasn't too difficult. Venter wasn't billeted at the Mess, as he had single quarters in the PF section at the base camp. He would drive over each day in his e-type Jaguar, of which he was very fond.
Life at the house was quite relaxed really, and not at all military-like. I had to start early each day and I worked all day, but the compensation was that I was left pretty much to my own devices when I wasn't on duty. Mostly this meant reading or listening to my radio, and writing a lot of letters to Sharon.
The relaxed atmosphere in the Mess backfired rather spectacularly on the officers on Wednesday 16 May. I had just prepared breakfast and most of them were still eating, when we received an unexpected visit from Sergeant Major Barnard and Commandant du Plessis, who arrived for an unannounced inspection. Evidently the Sergeant Major was not too impressed by the young officers' lack of discipline and tidiness, and he had instigated this latest raid on their Mess. Much to my relief he and the Commandant ignored me and my billet, but after a brief tour through the officers' rooms, all of the latter were assembled and given a stern lecture by the Commandant, and told to buck up their ideas or else…!
My own relaxed attitude to everything almost got me into hot water at the beginning of June, when I overslept one morning and most of the officers didn't get breakfast before they went to work. I received a warning for that one!
June also saw a change in command, so to speak, as Corporal Venter went on annual leave, and was replaced at the Officers Mess by Corporal van Helden. The latter decided that neatness was everything, and he had me and the two Ovambo labourers scurrying about cleaning walls and floors, besides cooking.
One of the latter, a youngster of 21 named Klein Jan, had an interesting outlook on life, as I discovered one day while engaging him in conversation. He told me he had five wives and God knew how many children, which rather horrified me. I asked him why he could possibly want five wives, and his response still floors me now; "When one is bepa (pregnant)", he said, "I sleep with another one." ! Given Africa's current problems with AIDS and other sexually transmitted diseases, this attitude has a lot to do with them I'm sure! I also asked how he intended feeding all these children he was fathering, and his response again was simple and to the point. "It is the woman's job to feed the children." Enough said!
I'd not had a hell of a lot to do with van Helden up to this point, but it was from then on that I got to know him well, and he became a firm friend. He was outwardly very correct and quite strict, but I eventually put that down to him being the son of a career soldier. His father was a Sergeant Major stationed in Pretoria.
My brief tour of duty at the Officers Mess came to an abrupt end on 7 June, and it all came about thanks to a revolution in the base kitchen. Staff de Souza, besides ranting and raving, had also evidently been helping himself occasionally to Army supplies from the kitchen, which he had been taking home. I heard that he was caught doing so one day by our Command Sergeant Major, whom we all called Obelix because he was a huge man. Anyway, Obelix suspended de Souza pending an investigation into the irregularities, and he placed Chief Petty Officer Starita in temporary charge of the kitchen. He had come to us early in 1979 from a navy base in the Cape, with his wife and youngsters in tow, and we all got on very well with the Chief, who was strict but friendlier and more amenable than the army NCOs.
Obelix also must have made moves to get a disciplinarian replacement to run the kitchen, because at the beginning of June a new Sergeant Major, Kok, arrived from Kimberley to take over.
When CPO Starita had taken over from Staff de Souza, he had promptly made the latter work in the kitchen, as the boot had very much been on the other foot while de Souza was in charge. This did nothing to improve de Souza's mood, but the Chief's time in charge didn't last long, and he was very quickly put in his place by Sergeant Major Kok.
I'd heard all the rumblings from van Helden, who seemed less than impressed by the new man in charge, but my first meeting with Kok was startling, to say the least. He turned up at the Officers Mess with Private Dekker, another National Service chef, in tow and after a brief look around, tore a terrific strip off me, called me a lazy good for nothing …… and informed me that I was summarily transferred back to the base camp, and that Dekker would be taking my place at the Officers Mess.
If anyone had told me then that I would think very highly of Sergeant Major Kok in time, I would have laughed them out of town, but that is exactly what did happen. One of the strictest men I served under in the Army at any time, he was nonetheless fair and what I really liked about him was the latter quality. He had no time for a PF who didn't pull their weight, and would treat them the same way he would treat one of us National Servicemen under those circumstances.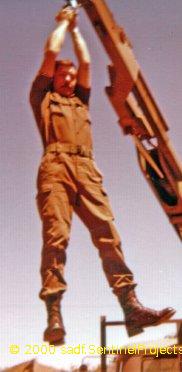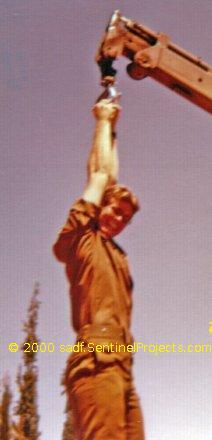 Unfortunately, the only photographs I have of CPO Starita (on the left) and Pte Dekker (on the right). On this occasion, we were mucking around with a truck crane at the base camp, lifting and lowering each other to see who could hold on the longest!
My arrival back at base camp was even more of an eye opener, as I discovered that everyone, and I mean everyone, was now working the shifts we National Servicemen were expected to keep. Not only that, but we were all working full days, 4.30am to 7pm, at Kok's instigation. He didn't like what he found on arrival in Windhoek and was determined to knock all of us into shape or die in the attempt. It was tough, but I think the PFs struggled more than we did. None of them had kept those hours for years!
The other shock was having to go back to sleeping in a tent, as by now it was well into winter, and very cold at night. I used to sleep with my tracksuit on, and also added four blankets and socks to the mix for comfort!
For the next couple of weeks we worked these long hours, after which Kok relented and allowed us to go back to working the normal shift pattern. He kept all the PF's working on the shifts though, which pleased us National Servicemen no end. We always felt as if we were the PFs skivvies, and here at last was someone who was prepared to make them do the job, instead of making us do the job while they sat on their backsides.
On the rare occasions I did get away from the base camp, I either went into town for a walk around or a beer in the local beer gardens. As soldiers in uniform, we were not allowed to frequent bars, but we could sit in a beer garden and order a beer. In other words, we were old enough to die for our country, but not old enough to buy alcohol in a bar - strange military logic!
I had also become quite friendly with Cees van Helden by now, and he would occasionally invite me and some of the other National Servicemen, such as Tony Pereira, to his house. His old Dutch grandmother was visiting him in June and I used to find her a delight to talk to. She was very down to earth, and whenever Cees got too touchy with his wife Lizette, granny quickly put him in his place. He in turn idolised her, which was nice to see.
In mid June we received a replacement driver, as our previous one had finished his two years and was being discharged at the end of June. The new guy, who came to be known by everyone as `Smiley' because he always had the biggest smile on his face, was a rather nervous Afrikaans boy who had been called up in January 1979. He had only just completed his basic training in Kimberley, and Windhoek was his first posting.
Smiley, for I never did find out his first name, had been trained as a driver but had not driven any vehicles before his army service, so had only about three months of learner driving to his credit. I had the dubious pleasure of finding out just how green he was on his first trip to feed the guards. This was on 19 June, when I went out with him in the late morning, to take lunch out to the various guard posts. In that one round trip, he managed to almost crash three times, and finished off with a spectacular crash that we were lucky to walk away from!
He was inclined to drive too fast and the same way, not taking account of the conditions, and this proved to be his and almost my undoing. We had all but completed our round in the open backed Peugeot utility vehicle and were approaching the shooting range along a sand road. There was a steep curve in this road and he went around this much too fast, with the result that the back of the vehicle, now much lighter as most of the food had already been disposed of, began fishtailing outwards in the soft sand in a most alarming manner. The sensible thing would have been to just take his foot off the accelerator, or even accelerate slightly, but instead Smiley stood on his foot brake, which aggravated the fishtail motion and made the vehicle start spinning in complete circles in the sand, the whole while moving forward at much too fast a speed. We spun helplessly like this for about 20 meters and then crashed over a sandbank into the ditch at the side of the road, coming to an abrupt stop. We just sat there like stunned mullets, hardly daring believe we were still alive, before carefully getting out and dragging the now much dented vehicle back onto the road. I'm pleased to say that Smiley became a good friend, and much better driver, in time, but that first trip with him was certainly adventurous!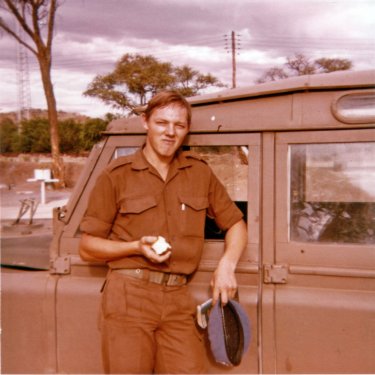 Smiley, with an ever present grin, eating an apple and standing by his Landrover. I took this photo while out on a guard food delivery run with him.
My misplaced rifle magazine, ammunition and beret came back to haunt me about this time too. I had just finished an afternoon shift in the kitchen when one of the guys in our tent told me that the 2nd Lieutenant of the Military Police wanted to see me. Thoughts of our driving adventures went through my head, and I wondered what I had been nicked for. When I arrived at the MP building, I was shown into the 2nd Lieutenant's office, and as soon as I saw him and what was on his desk my heart sank! There in plain view was my magazine, ammunition and beret! The kind hearted Tsumeb farmer had returned them after picking them up in Rehoboth during his return trip home, and although he didn't know where I worked, he remembered my name and had handed them in with this information.
The Lieutenant looked me over and asked if the magazine was indeed mine, and when I confirmed this, he tore a terrific strip off me, called me all sorts of careless fool, and then, much to my relief, sent me packing with my things, with the dire warning that he would put me on a charge if I appeared before him again. I was just relieved to escape so lightly, and thanked him before scurrying off as fast as I could!
At the end of June there was a long weekend which coincided with my weekend off duty and, having gained Sergeant Major Kok's permission, I arranged to fly home at my own expense, having accumulated enough money to do so. My mother booked my ticket and I flew home with South African Airways, via Upington on Friday the 29th.
After four wonderful days at home with Sharon and my family, I inadvertently missed my return flight to Windhoek on the Tuesday, all through a misunderstanding. My return flight was booked on a Lufthansa international flight going to Germany via Windhoek, but we didn't realise this and I waited in vain at the domestic terminal of the airport for my flight. By the time I realised my mistake, my actual flight had departed, and I was in a panic. I had visions of being arrested for being AWOL but my mother, bless her, smoothed the whole thing out. She got me transferred onto another domestic flight departing the next morning and she also telephoned SWA Command to let them know I had missed my plane. When I did arrive back at the base camp on Wednesday morning, I still expected to get roasted, but Sergeant Major Kok merely asked if I had enjoyed a pleasant weekend!
By the beginning of July I was getting on a lot better with Sergeant Major Kok, as he had quickly worked out that myself, Ernie Venter and my good mate Tony Pereira were three of the harder working chefs, whereas many of the others, like van Schalkwyk, Nel and Joe Ferreira, were inclined to take liberties where and when they could, and often avoided work when it had to be done. My 19th birthday was looming on 10 August, and during my last weekend at home my mother had raised the idea that I try to get home again for that, as the family wanted to have a joint birthday party for me, my sister Heather, my grandmother and my Aunt Mary, all of whom had birthdays in the first two weeks of August. Anyway, I asked him if I could have the weekend of my birthday off, which he not only agreed to, but suggested that I take a long weekend off. There was a condition attached to this rather sudden generosity though - I had to work all the weekends in July. I jumped at the chance, even though it meant working eight extra days over two weekends to get two extra days in August.
With my natural inclination to hate my role as a chef, I did my utmost to get assigned to other duties whenever I could, volunteering regularly to take food out to the guards around Windhoek, to avoid having to serve the hundreds that turned up each meal time from all over. With thoughts of my embarrassment at being unable to help with driving when I'd hitch hiked home, I thought this a great opportunity to learn to drive, and I asked our driver Smiley to teach me. He had become a good mate too in the couple of months I'd known him, and he readily agreed.
The usual procedure on these trips was for him to draw his vehicle from the vehicle park before each outing, the vehicles usually being either a Landrover or an open backed bakkie, or utility vehicle. He would collect the food and me at the kitchen and drive away from the camp, until we reached a dirt road on the outskirts of Windhoek itself, en route to the tiffie workshops. Here he'd pull over and I would take over, jerking my way down the road and grating the gears until, finally, I got the hang of it. It was fun learning to drive on the different types of vehicles, as the Peugeot bakkie had gears on the steering column and the Landrover, with a column shift, was like driving a tank in comparison.
Of course, we took a hell of a risk doing this as only the assigned driver was permitted to drive any R vehicle, and if the MPs had caught me driving, both Smiley and I would have been for the high jump. That's why we tended to only do so on the dirt roads in the country, where we were unlikely to meet any vehicles, never mind military ones. Eventually, my driving became proficient enough to allow me to drive around the city suburbs with Smiley as my passenger, and we never were caught out by the MPs.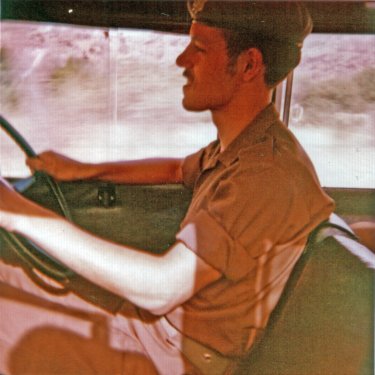 Me driving the Landrover along a dirt road outside Windhoek. Smiley had to climb outside the vehicle, hanging on to the swinging door with one arm and take the photo with his free hand. Brave man!
One of the stranger events I had to attend while in Windhoek, was a Bisley shooting week, attended by a number of our senior Defence Force officers. I think they were using it as an excuse to get together and discuss the war, and tactics. Anyway, Sergeant Major Kok grabbed me and headed off to this Bisley week, where he and I prepared snack food and fed Generals tea. I got to personally meet General Magnus Malan, Chief of the SADF, Lieutenant General Constand Viljoen, Chief of the Army and Major General Jannie Geldenhuys, our officer commanding at South West Africa Command. The latter struck me as being quite an intelligent and sensitive soul, with a ready smile, but the man who impressed me the most was Constand Viljoen. I was introduced to him by Sergeant Major Kok, and he starred straight into my eyes while greeting me. His eyes had a steely quality to them that I have never seen in anyone else, before or since, and he looked all purpose and resolve rolled into one. I wasn't surprised years later when he became in turn Defence Force Chief and ultimately went into politics, albeit with little real success in the last endeavour.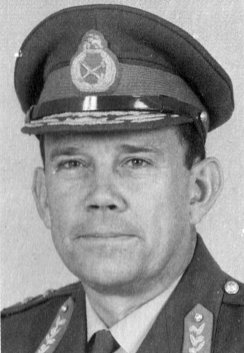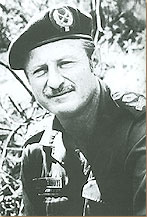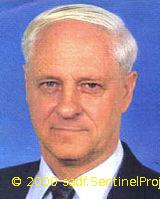 The big three (left to right); General Magnus Malan, Major General Jannie Geldenhuys and Lieutenant General Constand Viljoen.
I flew home again on 10 August, and spent a wonderful long weekend at home, during which we had the party at my Aunt Mary's house and I received, among other things, a camera as a gift. The latter was at my request as there were so many things to take photos of in the Army, and to date I'd not taken one. In the end, my selection was not as comprehensive as it could have been, as I never got a single photo of Okahandja, or anyone I served with there, and I also managed to not photograph much of anything months later, when I was assigned to 93 Ammunition Depot in Jan Kempdorp, but I'll go into that posting later.
Much of the rest of the year at Windhoek would be too boring to relate in detail, as it was fairly routine for the most part. Instead, I think it will more interesting to mention odd happenings or things out of the ordinary, as well as my recollections of some of the people I served with.
Shortly after my return to Windhoek, my mate Ernie Venter was selected to attend an NCO's course at Okahandja, as we needed at least one Lance Corporal to replace Steyn, who had now finished his National Service. Ernie, (real name Ernst) a very nice and quiet Afrikaans lad from Empangeni in Natal, was easily the best choice for the job, as he was never in trouble and always did his work well. The rest of us were inclined to be silly and clown about a lot of the time. It was still cold when he was sent to Okahandja and Ernie told us afterwards that it was like doing basics all over again. They had regular afkak and inspections, and were marched everywhere. Mind you, at the end of it all he was a Lance Corporal, and got paid more than the rest of us, so we envied him that at least.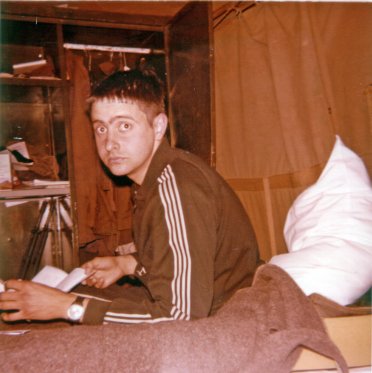 Ernie Venter, in our tent in Windhoek base camp. His G.3 rifle can be seen in his cupboard, just above his left hand.
Ernie was also a fairly good scholar, and taught himself to speak German in his spare time, with no more than the aid of a text book. It came in handy too, as he used to translate for us when we had any dealings with the local Germans, who always seemed unable to speak anything but German to the South African soldiers, yet could converse in English otherwise (we were not very popular with them). His expertise helped us to buy a couple of acoustic guitars and harmonicas from a local music shop, run by a German, and we spent many hours learning to play these, with the aid of some simple chord and song books.
In the end I could play quite a few tunes, and at least it helped to while away the many hours we had to think of home, and how far away we were from it. We even used to play together as a band of sorts, just among ourselves.
Ernie was also a passable tennis player, having played at junior representative level for Natal. He once volunteered to help call the line at a womens tournament that was held in Windhoek, and ended up having a verbal altercation with some young thing who was fairly highly ranked in South African womens tennis. Ernie called a ball she had struck out, and she argued the toss, telling him he was a nothing who knew nothing about tennis. Ernie, not normally moved to anger, retorted that he knew more about tennis than she could ever hope to, and he offered to play a match against her to prove it. She got the point, and backed down.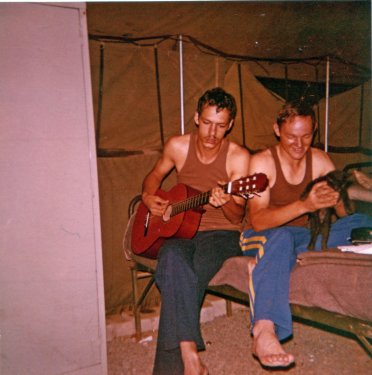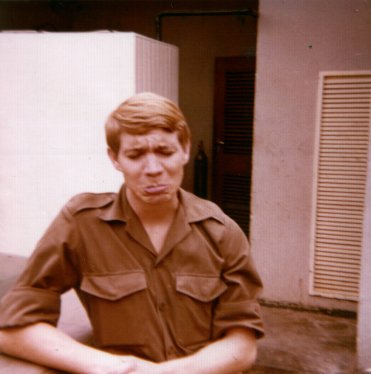 Me playing the guitar while Smiley plays with our cat (left) and Private Luis van Schalkwyk (right).
Another rather odd guy I served with in Windhoek was Luis van Schalkwyk. He met a local woman twice his age, a divorcee, and eventually started a rather intense relationship with her. The latter led to marriage, much against his horrified family's wishes I understand, and when the rest of us were reassigned to bases in the Republic, Luis remained behind in South West Africa. What amused the rest of us was that this woman was very plain to look at, and we couldn't see what had prompted Luis to chase her in the first place! She had a younger daughter from her first marriage, and it was through this daughter that Luis had met her in the first place - he was dating the daughter!
Probably my best mate in Windhoek was Tony Pereira, a cheeky Portuguese guy who used to pull everyone's chain all the time. It got him into a few scraps too, like the occasion he and Appelkoos, one of the Baster kitchen hands, came to blows over some comments that Appelkoos had made about Tony's sister. Tony threw him into a boiling hot pot of soup on the stove, which in turn spilled over onto the nearest person walking by - me! Luckily I was wearing my track pants under my uniform as it was winter and very cold that day. I got soaked in boiling soup but not enough to get through all the layers and burn me. Corporal Venter made Tony cook another pot and Appelkoos clean the kitchen single handed after that little affair.
Another trick of Tony's was to put on an affected pose and voice, mimicking our gay Corporal Venter. At first Venter didn't quite know what to do about this and used to get very angry at Tony, but eventually he learned to just ignore him, which is probably just as well, because Tony never stopped teasing him.
On the rare occasion I ever went out drinking in the local beer gardens, it was always with Tony. He was just so down to earth and I found him relaxing to be around. We didn't bother normally though as there were so many PFs around in the city centre as to make it unbearable. You spent more time saluting than you did sightseeing or beer drinking!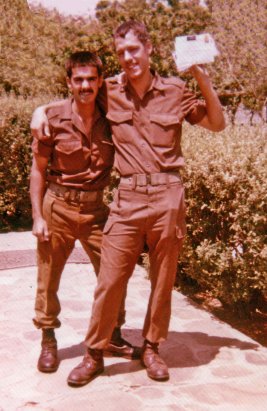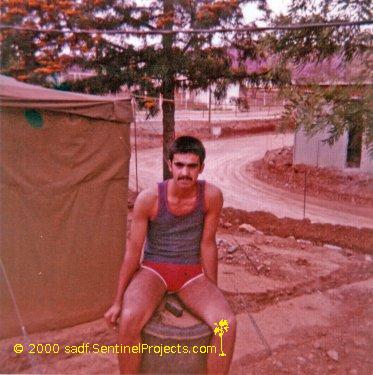 Me and Tony with our mail from home (on left) and Tony outside our tent (on right).
Towards the end of our stay in Windhoek, we acquired two mongrel pups and a kitten, all strays that just wandered into the camp and were adopted by us. They lived with us in our tent, and were a constant source of amusement in off duty hours. The two dogs were named Buddy and Bullshit, for no other reason than we were 19 year old males living in a male only environment, and all common sense seems to leave men at times like that! When we left Windhoek, all the pets were just adopted by our replacements, and no doubt lived out there lives there in safety and happiness, with all those kitchen scraps to feed on.
Just before I went home on my 14 days leave, a PF officer came to the kitchen with a Gemsbok he had shot while out hunting. We had to skin and clean this animal for him, in exchange for which we could take a small helping of the meat for ourselves. I appropriated some steaks, which I froze solid and then stuffed in my bag, just before being driven out to the airport to catch my civvy flight home. They stayed frozen long enough for me to get them home, and we all ate the most delicious Gemsbok steak that night. I still feel a little guilty nowadays when I see the Oryx, or Gemsbok as we knew it, in Auckland Zoo. They are beautiful animals really, and it seems a shame to shoot one and eat it. They do taste nice though!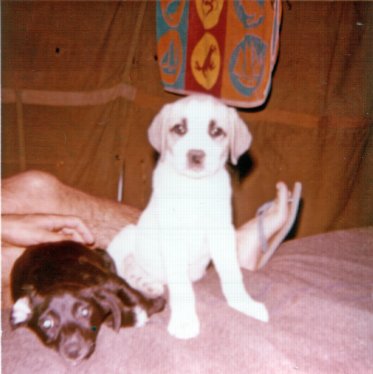 Our two tent dogs, Buddy (on the left) and Bullshit (on the right).
That 14 day leave started badly as I got into a nasty argument with Sharon over arrangements she had made on my behalf. Her cousin was celebrating a 13th birthday and she had thoughtfully arranged for us to attend this, as I would not have time to make the arrangements once I got home. I'm not being sarcastic here either, it really was thoughtful of her. But, I was full of shit and my bad humour was not made any better by an invite to attend a friend Alan Barbeau's birthday party, extended to me by my brother after my arrival home. I'd rather have gone to the latter. As Sharon had already arranged our attendance at the 13th birthday party though, I went along but spent the entire time sitting on my own drinking far too much brandy with my future father-in-law, Ken. On the way home I insisted that Ken stop the car and drop me off, whereupon I walked to Alan Barbeau's house alone.
I met up with a few mates there, including Duke, with whom I had been at school. He was home with his arm in plaster, recuperating from a wound received on active service in South West Africa; another reminder of the untold war going on there. I continued to drink far too much and in the end was virtually comatose, and had to be driven home by my brother Dave, who was at the party too. In all, an incident which left me with little credit and of which I am ashamed to this day.
I did resent having my first weekend home planned for me, but could have responded in a far more mature fashion than I did. Mind you, we were all a bit bos befok after spending time in South West Africa, especially those who saw combat, and although I didn't, I suppose I wasn't entirely immune, as much as I thought I would be. I'd always had a foul temper, but became very crabby in my year in South West Africa. I can still recall throwing my cassette recorder at a cleaner when I was newly stationed in Jan Kempdorp, some three or four months after this incident, and all because he had dared to slightly bump it while trying to clean our storeroom! The net result was a very confused cleaner and a broken cassette recorder. What an idiot!
Sometime after my return to Windhoek, I was surprised one night to receive a visit from a very drunk Clyde Birch, my old buddy from basics at Elandsfontein. He was on his way home on his 14 days leave, and was roaring drunk and in murderous mood. He'd received word from someone at home that his fiancee had tired of waiting for him and was screwing someone else, and he had taken his 14 days leave so that he could go home and kick the crap out of her! Having no transport from the border camp he was in, he was hitch hiking, and duly found his way to Windhoek and thought he'd look me up. He actually came to our tent while I was on duty, and said he would return later when I was off duty. When he did, he was as pissed as a newt and had a new bottle of gin on hand, which he intended drinking too. I took one look at him and decided he would probably kill himself if he did so alone, so I sat there that night and we drank the bottle together. We didn't have anything to mix it with either, and drank it neat, diluted with water! It was disgusting, to say the least. Clyde slept off his drunk in our tent that night, and was on his way early the next morning. It was to be the last time I ever saw him too. I hope he had the common sense to just give his fiancee her marching orders when he got home, rather than kill her!
The last few months of 1979 at Windhoek were pretty routine, and do not need to be gone into in any detail here. Looking back on it, South West Africa Command was a cushy posting, and although we were not allowed to mingle freely with the civilian population, we still had a city to visit occasionally, unlike the poor souls in isolated border camps, who had the tedium of not being able to go anywhere on their time off, mixed with the constant thought of danger out in the bush, from where attacks might eventuate at any time.
Quite late in the year I was approached by one of the guys I was serving with, who knew that I had played bass guitar in a band before my army days. He told me there was a local man, Jannie Basson, who was keen to reform his band and play at some local dance halls to make money. I went along to visit Jannie at his house, and found him to be a middle aged keyboard player. He said that if I could get my bass guitar and amplifier to Windhoek from home, he would be happy to employ me part time as his bass guitarist. His band played boeremusik , which was not anything I'd played before, but extra money was extra money, especially to a National Service soldier, and I readily agreed. The next time I flew home on leave, I arranged to return with my bass guitar and amp, and we played a few Friday night dance gigs before numbers attending these dances dropped off and he was forced to give up the enterprise. While it lasted though, I made as much money on one Friday night as I was making in two weeks as a soldier, so my finances were very healthy for a few weeks.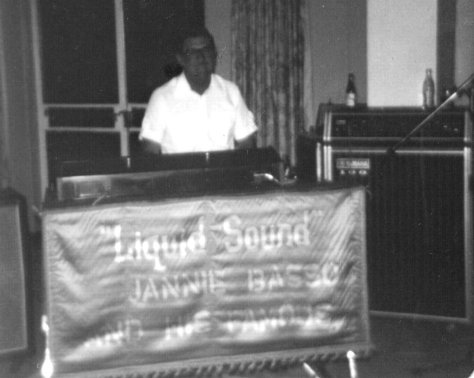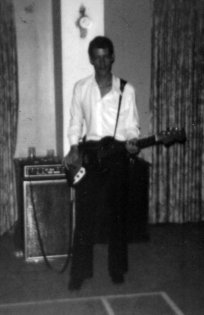 Jannie Basson, the leader of the band, and myself playing bass guitar at a dance in Windhoek .
One Saturday we were contracted to play at a double wedding in Otjiwarongo, some 250 kilometres north of Windhoek. Despite the distance involved, we elected not to stay in a hotel there for the night, even though we would only finish playing quite late in the evening, and we would have to drive there and back, a total of 500 kilometres.
The trip up was without incident, and we arrived in enough time to go to a local hotel and change into smart civvies and have a beer. We then set up in the local hall, and awaited the arrival of the bridal party and guests.
The wedding, or weddings, were of twin sisters who were marrying on the same day, so there was quite a large group that gathered for the festivities. These went on until past midnight, and we were a tired lot by the time we had packed up all the gear in the guitarist's van, and started our drive back to Windhoek.
We were belting along at about 120 kph, in the middle of nowhere and surrounded by bush, when we rounded a bend and came face to face with a large male Kudu standing in the middle of the road. Our driver slammed on his brakes instinctively and we came screaming to a halt with inches to spare. The Kudu never moved! As soon as we had stopped, we realised his harem of females was crossing the road behind him, and he was obviously keeping a lookout for any potential danger as they did so. How we avoided hitting him only God knows. It would have been a catastrophic crash at that speed, and I was sitting in the front of the car so would probably have been smashed too!
Our band's undoing was an old friend of Jannie's, a guitarist, who asked if he could play one night. He wasn't a regular member of the band but Jannie agreed. This guy cocked it up entirely as he drank steadily through the evening and got very pissed very quickly. His guitar playing suffered accordingly and both myself, Jannie, the other guitarist and our drummer could not keep him in check or fathom what he thought he was playing. After this unfortunate gig, attendances plummeted and it wasn't long after that Jannie decided to disband again.
A Close Call
The closest I ever came to deliberate harm during my year in South West Africa was not in Okahandja or further north, when we had Swapo insurgent activity in the area on a couple of occasions. It happened in late 1979 in Windhoek, of all places.
One of the kitchen driver's duties was to pick up the local labourers who worked in the kitchen each morning, and deliver them back to the township at Katutura, just outside of Windhoek itself, at the end of the day. This would not normally require a chef to accompany the driver, but occasionally I went along with Smiley, to alleviate my boredom or to escape the kitchen for a while.
The routine was always the same; the workers met at a point on the outskirts of the township where we would pick them up, and they were dropped off collectively at the same point late in the day, from where they had to make their own way home on foot. Under no circumstance were we allowed to enter the township, either to pick them up or drop them off.
Over our time in Windhoek we had become quite familiar with these labourers and some of them asked Smiley if he would drop them off at their homes, rather than on the outskirts, as there were always unsavoury types waiting for any late arrival in the townships, especially on pay day and after dark. Despite orders not to, we took to doing this for one or two of the labourers, and it almost proved to be our undoing one evening.
On this particular occasion, as had happened many times before, Smiley asked if I wanted to go with him, a chance I jumped at. He drove out of the camp in the Landrover to a convenient quiet spot, where we swapped seats and I took over the driving. From there we proceeded to Katutura where we dropped most of the labourers at the drop off point, and then continued into the township itself with three of the labourers, including Appelkoos, with whom Tony Pereira had that altercation previously.
It was dusk by the time we reached Appelkoos' house, and we had just dropped him off and were still stopped, with the engine thankfully ticking over, when BANG! There was an almighty crash just behind me which caused me to instinctively duck forward, just as I got showered in broken glass. Smiley and I both whipped around at the same time to see a gaping hole where the window had been, just behind my head, with a brick lying inside the vehicle on the floor.
Training and common sense took over, as Smiley pulled out his revolver and I slammed the Landrover into gear and sped off down the road, away from the stone throwers, as fast as I could go. We fortunately were not too far from the township boundary, and were soon back on the main road and speeding back to the base camp as fast as we could, stopping only long enough to change seats - Smiley was supposed to be driving!
On reaching the base camp we reported to the MPs, who took the brick as evidence, but were rather sceptical at our insistence that we dropped the labourers outside the township! We didn't dare tell the Lieutenant that we had in fact disobeyed orders and taken the labourers into the township, and been attacked there, as we would probably have been court-martialled ourselves.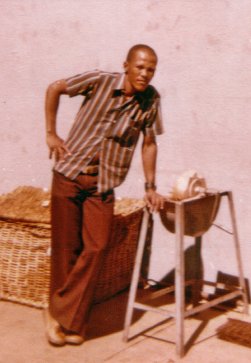 Appelkoos, who was always quick with a smart remark, or to ask for a cigarette. He was a Baster, the only one working at the base kitchen.
At the time we were definitely a bit afraid, but more annoyed at the bastards who had thrown the brick at me in the first place. In hindsight, it gave both of us cold shivers! We were just two soldiers armed with a single revolver, loaded with six bullets only, and were in uniform in the middle of a black township with thousands of locals around us, all of whom no doubt looked upon us as the white oppressor. If that brick had struck me in the head, which I'm sure was the intent of the thrower, it would probably have knocked me senseless at the least, although I personally think it would have maimed or killed me, as it was a large brick and was thrown with some force. The rest would have been history I think, for both Smiley and me!
Needless to say, we never dropped off any labourer inside the township after this episode!
Sharon visits Windhoek
November came, with no end to my sojourn in South West Africa in sight, and I had visions of seeing out my two years there. One day, in a fit of despondency I was visiting Cees and Lizette van Helden at their home. We had just been told we would not be getting home for Christmas, which would make it two in a row that I had spent in South West Africa, and I was moaning to Lizette in particular about not seeing Sharon for Christmas. Ever practical, to cheer me up she suggested I ask Sharon to visit me in Windhoek, which I thought was a fantastic idea!
I duly wrote to Sharon and arrangements were made with some indecent haste, at least in Windhoek. Sharon was to fly up and spend the weekend of 14 to 17 December at the van Heldens' house, as this was one of my weekends off duty. Lizette went to a great deal of trouble to see that Sharon and I had a room to ourselves, and arrangements were made to do a few things while she was there.
The day arrived and in great excitement I borrowed my friend Ernie's car, an old beat up Volkswagen Variant that he had bought second hand locally a couple of months before, and went out to fetch Sharon at the airport.
Aided and abetted by my friends Smiley and `Doep' du Plessis, the latter another tiffie driver who occasionally did the kitchen to guard post meal run when Smiley was occupied elsewhere, we had arranged to go to Windhoek's only drive-in cinema, to see the newly released `Alien', starring Sigourney Weaver. It was an interesting movie, but not nearly as suspenseful as I'd been led to believe by Sharon, who'd seen it in South Africa at a cinema. We crammed into the car and at the drive-in itself, Smiley volunteered to sit on the roof, it being hot and summer, to enable the rest of us to stretch out a little.
On Saturday we went sight seeing around the city and surrounds, again in Ernie's car, and had the humiliating experience of trying to coax the old car up a steep hill at a nearby lake, but failing miserably and having to reverse very carefully back down from half way up!
That evening we had a barbeque at Cees and Lizette's house, again catered and organised by the latter. They invited their neighbour, a young nurse, myself and Sharon of course, Doep and Smiley, and the evening was great, apart from me having a tantrum again when I couldn't get my camera flash to work. The ever smiling Smiley obliged and fixed it, so I was able to get a few photos of the occasion.
On Sunday, Smiley, Doep and I took Sharon out to the Daan Viljoen game reserve, some 30 kilometres east of Windhoek, for a swim and barbeque. She was horrified too as, being typical guys, we took meat and that was all - no utensils or plates to eat from and no other food - just meat! Despite our lack of foresight, we had a great time mucking around and climbing down the rock walls at the nearby dam, and only returned late that afternoon.
By the time I saw Sharon off again on Monday morning, we had spent a fabulous few days, and I could at least look forward to Christmas away from her without being quite as jaundiced about it.
The barbeque at Cees and Lizette van Helden's house. Standing, left to right are `Doep' du Plessis, the van Helden's neighbour and Lizette van Helden. Seated in front are Smiley, me and Sharon. The T-Shirt I'm wearing was a Christmas gift that we all received that year in South West Africa, from a grateful nation no doubt!
We were very busy in the last two weeks of the year, preparing for Christmas dinner and then New Year, so didn't have much time to ourselves anyway. The dinner itself was a roaring success, probably because most of the PFs took off over the break and it was done almost entirely by the couple of PF Corporals and us National Servicemen.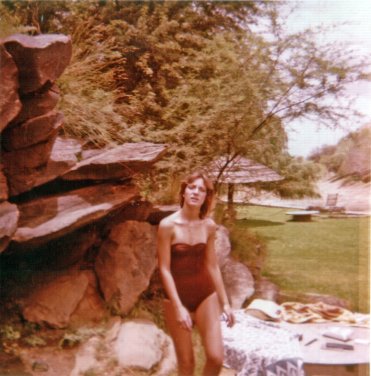 Sharon at the Daan Viljoen Game Reserve.
Hotlink to the Next Chapter.
---
Published at Sentinel: 24th July 2006.

Here is a shortcut back to

Sentinel Projects Home Page.