PRO PATRIA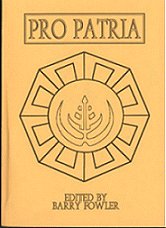 TABLE OF CONTENTS
Diagrams: Ombalantu Camp & Eenhana Camp
Sadly, this account has been discredited, specifically the South African Parabat Veterans Association have no record of this man ever having been a Parabat, and there is no record of him having jumped at Cassinga. After he was challenged and discredited, he has disappeared, so there is no way of telling whether some of his other material is true or not!
Cobus reported for National Service in 1967 and started Basics at 3 SAI, then at Lens. He volunteered for the paratroopers and trained at De Brug near Bloemfontein. He attended camps in Gazankulu, and Rundu, and participated on Operation Savannah into Angola in 1976, serving in Zulu Combat Team. Cobus was one of the parabats dropped on Cassinga in 1978, where he as wounded and casevaced, and received lengthy treatment at 1 Military Hospital.
Chris reported for National Service in 1979 straight after school. He was in the Air Force, and did a two-month guard commander's course at Dunnotar flying school, after which he was stationed in a forward observation post at M'pacha for four and a half months. He spent his last six months at Hoedspruit. After his initial two years, Chris was assigned to a Tactical Airfield Unit and he did camps at Uppington and Sodwana.
Andre was a qualified clinical psychologist when he reported for national service in January 1985. He did basic training and officers course with the South African Medical Service at Klipdrift. He worked at 3 Mil, Bloemfontein for three months, did three months on the border at Oshakati, and then was transferred to 1 Mil, Voortrekkerhoogte where he spent most of 1986.
Clive was a doctor when he reported for national service in January 1986. He did basics and officers' course at Klipdrift, and then worked in the Department of Psychiatry, 1 Military Hospital. During this time he completed two border duties, one at Khorixas and the other at Ombalantu where he was injured during a rocket attack.
Philip was a qualified Health Inspector when he reported for national service in January 1986. He started out at 2SSB, and managed to get on to the July 1986 Officers' Course at Potchefstroom. After this he was posted to Natal Medical Command, where he was stationed at Josini for six months, and then spent three months at 121 Bn, Mtubatuba. Then he was sent to the border where he spent six months at Eenhana, Owamboland.
LJ was a clinical psychologist when he did National Service from July 1987 to June 1989. He did basics and officers' course at Witrand, and was involved in the sharp end of Operation Modular, after Christmas 1987. He did a border duty in Sector 10 (Owamboland) in 1988, and he spent the balance at 2 Military Hospital.
7. Psychology Debriefing Team (1988)
Barry was a permanent force psychologist on detached duty at 5 SAI (Ladysmith) when he was assigned to a psychology team assembled to debrief soldiers returning from Operation Hooper in early 1988. He had previously completed a border duty at Oshakati (Sector 10) which has been documented as `Grensvegter?'. [Below]
---
Published: 1 July 2000.
Shortcuts to Chapter Two or the Sentinel Projects Home Page.
---