CHAPTER THREE
THE DEPARTMENT OF PSYCHIATRY AT THE OLD HOSPITAL
PSYCHIATRISTS
COMMANDANT ANTON P.
Commandant Anton P. was the head of the Department of Psychiatry. He was an important man, highly regarded. He was very Freudian/Psychoanalytic in his approach, which unnerved people - it did me. I am wary of psychoanalytic people, who I think are inclined to over-interpret everything that one may say or do. Possibly my reservations echo what Freud felt when he said, I believe in conversation, 'There are times when a cigar is ONLY a cigar.'
Commandant P. was very academically inclined. He was busy writing some post qualification thesis on Post Traumatic Stress Disorder. (He asked me to help him to translate the abstract into English!) He was largely involved in organising an international conference on Post Traumatic Stress Disorder, which took place in mid 1986.
Commandant P. was also interested in (illegal) substance abuse, and he apparently reformulated the army's policy on dealing with apprehended substance abusers. ('Resister', no. 47, p. 14) He and his 'inner circle' travelled the country giving lectures to the 'welfare' sections at various commands; social workers and chaplains for the most part, on how to work with drug offenders. Commandant P. ran a group for substance abusers, for patients based on Ward 9 at the new hospital.
Commandant P. was tall - too tall really, and he sometimes appeared to be poorly co-ordinated. It has to be said; he looked a little like a character from a Don Martin (of 'Mad Magazine') cartoon. He had a moustache - standard for most Afrikaans men, especially those in the army, but it didn't seem to fit in with his face. He spoke softly and calmly, and would say 'Daars-hy!', ["There it is!"] as a mannerism, when a hypothesis he had been entertaining was confirmed. On day one of working in 1 Mil, with my compulsion to volunteer, I ended up as a member of the model group which the commandant formed to demonstrate some aspects of group dynamics to the doctors, most of whom were interested, but did not have much 'psychological' education. Right in that first group, I made some mention of Commandant P. being like a father figure. How those in-the-know must have cringed!
Midway through 1986, the two psychiatric panels swapped Psychiatrists, so I have a new boss in overall charge, but most of the rest of the staff stays the same. New brooms sweep clean, and Commandant P. decided that he wanted us all to report for work half an hour earlier, so that we could have some time at the end of the panel to have a 'spanbou' [team building exercise] but I don't know what he had in mind.
With great reluctance we all arrived half an hour earlier, and hung around in the ward for the ward round. The patients also had their breakfasts delayed until after the ward round was over. He eventually arrived half an hour late, and was embarrassed to admit that he had been held up taking his little daughter to her nursery school as it only opened its doors at 7.30 am. So much for our early start, and we still haven't had our 'spanbou'.
I never got close to Commandant P., but he was always decent to me. He left the SAMS at the end of 1987.
COMMANDANT MARIUS M.
Marius was the second in charge of the Department of Psychiatry, and the Psychiatrist in charge of the Psychiatric 'Panel' or 'Firm' with which I worked for the first half of 1986.
I was a civilian intern at this time, and not sure quite how to blend in with the military structure, but anxious to blend in to the best of my ability - I have enough of an authoritarian personality for this to be easy! For the first week or so I was very respectful to Marius, almost snapping to attention, calling him 'Commandant', and pretty much 'speaking only when I was spoken to.'
Marius would have none of that! He told me; "Barry, call me 'Marius'. I hate all this 'Commandant' stuff." I was a civilian then, but things didn't change when I went into uniform.
At first, Marius seemed to be very laid-back. He drove to work on a powerful motorbike, and he would, on occasion, walk around without his epaulettes on, and wear a tracksuit top over his uniform shirt.
He looked a lot like British Actor Jonathan Pryce - who played Peron in the film of `Evita',, though I suspect that Marius was actually taller and leaner.
Marius was tall, thin and spidery. His dark hair was thinning. He did not wear a moustache, which must have made him a deviant. He had a friendly casualness with his staff, and would give positive feedback, which I don't think that Commandant P. ever did. During the early months, one of Annette's patients killed herself, and Annette was understandably cut up about this. Shortly after that, Marius sat me down and told me that I could expect to have at least one of my patients actually kill themselves that year, and that I must accept this as an inevitability. It will happen, and I must not see it as my fault, or that I could have prevented it. But I must make sure that I maintain professional standards at all times, so that I have nothing to reproach myself about when it happens. I really liked the way he put it, in a benign father- and-son style chat.
An early impressions of Marius, was of his depression and frustration after his brand new car was pretty thoroughly written off by a travelling salesman who admitted that he was reading something while driving. There seemed to be all sorts of complications, what with getting different quotations, and the insurance company trying to wriggle out of their obligations.
Marius spoke excellent English. He admitted being interested in the Progressive Federal Party (PFP), the most liberal legal political party, which was then the official opposition. He recounted his disappointment when he had phoned them to ask about something; he wanted to speak Afrikaans, his home language, and none of the office staff could speak to him in Afrikaans - one of the two official languages in South Africa. Eventually they had to get one of their black cleaning staff to come and speak to him in Afrikaans. For him to admit quite openly that he was interested in the PFP, and the fact that he did not sport a moustache, would lead one to expect that he was not militaristic!
THIS WOULD BE WRONG!
Marius was a true-blue red-blooded HAWK! Early in 1986, South African jets bombed some targets in Zambia. The jets had flown over Marius's house on route. I didn't think he was a hawk until he joked that he was sorry that he hadn't been invited to participate.
Marius did shooting as a sport. He would disappear off to a shooting sports parade every Wednesday afternoon.
Marius had reservations about the relaxed way in which Commandant P. ran Ward 24, the large ward to which all psychiatric patients at the old hospital were admitted. He described how the Americans had organised their hospitals during the Vietnam war; patients would have their name, rank, number, and unit displayed above their beds, and were kept in a military style environment. Marius was powerless to implement any of this, because Commandant P. would not go along with it. The two of them didn't seem to have much time for each other.
I must report it, for failing to do so would make this write up less impartial than I would like. On occasions, Marius would shout at patients during psychiatric panel presentations. I only remember this happening once or twice, but it was very embarrassing when it happened. It was invariably with patients who were plainly malingering, and weren't even making a good effort of doing so.
Marius commented how he noticed that when we were hearing the same old 'I can't handle the army, and I'll kill myself if you don't let me out'- story, members of the psychiatric panel would look bored, and start to look around, but when there was someone who had actual psychiatric or significant psychological problems, how every one would lean forward with interest and concern.
During one panel, when I think I was the only English speaker present, Annette commented that 'All the English boys are Gay,' with a leer at me. She never got the hang of tact!
Marius must have felt very uncomfortable with this. "By the same token you could say that all Afrikaans boys are dumb!" he told her, in an almost rebuking manner.(It was an interesting trend; more English speakers presented as Gay, and more Afrikaans speakers were discharged from the army of the grounds of borderline intellectual functioning.)
In spite of being a Hawk, Marius showed a surprising amount of tolerance of homosexuality. He made a comment to a staff member friend of mine, not talking with reference to him; "If you want to fuck donkeys, don't tell people or they will laugh at you!" Marius was distaneful of the word 'Gay', and his insistence that they were effeminate, and not feminine.
Marius coined the phrase 'pateet', a noun made from the Afrikaans adjective (pronoun?) for 'pathetic' to use to describe feeble non-copers. Marius commented about us possibly developing a distorted impression of the South African youth in view of the samples we were seeing.
Marius recounted with some amusement, a misspelling of 'psychology' that a sign-writer had made before being corrected. He had spelled it 'Spychologist' - could this be a Freudian Slip?
Marius took over as the Head of the Department of Psychiatry when Commandant P. left at the end of 1987.
I was very fond of Marius. I house sat for him over Christmas in 1986, and we met up again when I was doing an intake at 5 SAI (See 'Bad Guys'). I look back on him as being a personal friend, and I do feel guilty at the disappointment he might have felt about me leaving South Africa the way that I did. I wish him well!
DOCTORS AT THE DEPARTMENT OF PSYCHIATRY (OLD HOSPITAL)
There were four kinds of doctors in the department of psychiatry; Permanent Force, National Servicemen, Campers and Civilians.
PERMANENT FORCE DOCTORS
Permanent Force doctors were expected to stay in the Permanent Force for at least four years, otherwise they would be liable to do two years of National Service.
CAPTAIN COENRAAD GEYSER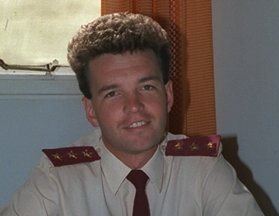 Coenraad was there when I arrived, and he was there when I left. It took me a while to get to know him, as he was always in the 'other' psychiatric panel, the one attended by Glenn and Retha. He was tall and thin, with short brown hair, and a round face, which beamed.
In early 1998 I learned that Coenraad, who was still working in the department of psychiatry ten years after I worked with him had been killed in a road traffic accident while returning from detached duties in the Northern Transvaal. I had attempted to meet up with him earlier in the year, but he wasn't able to meet me during the only evening that such a meeting would have been possible. I knew Coenraad to be a much liked person, who really enjoyed his life. Those of us who worked with him, and his many patients over the years will consider his premature death as a sad waste.
CAPTAIN KOOS E.
Koos joined the Permanent Force at the end of 1986. I think he was straight out of medical school, but he had done something else apart from his medical studies since he left school.
In the lounge of the mess one day after lunch, Koos and I were joined by Anthony T., a psychologist who trained at my university the year after me. He was battling to finish his thesis, and spoke to me about trying to wangle time off the army to finish it, saying that it was in the army's interests to have him qualified. Koos commented afterwards that this indicated 'psychopathic traits'. I hope he was joking!
When I was showing high levels of aggression when I returned from the Border, Koos identified this with a comment; "Lets get Barry to growl at this patient!"
I got on well with Koos, but we didn't spend much time with each other.
NATIONAL SERVICE DOCTORS
National Service Doctors tended to arrive after they had done their six months Basics and Officers Training Course. The remaining eighteen months of their national service was likely to include one, or more likely two, three-month tours of duty in the Operational Area. This disrupted their lives, and often left the department short staffed when they were on the Border.
National Service doctors might have identified most with the national servicemen who were the patients for the most part. Motivation and commitment to the SADF varied, understandably, and most of them strongly looked forward to 'klaaring out' ['Checking out'] and returning to civilian life.
LIEUTENANT B.
Dr. B. made an initial impression on me, but did not stay very long in the department. He was a very fat man, and I imagine that the army might have found difficulty finding a uniform big enough for him. Apparently he was an active charismatic Christian, and believed that psychopathology was the result of a poor relationship with God. It was rumoured that he would get patients to kneel down with him in his office and join him in prayer. No wonder he didn't stay long!
LIEUTENANT LEON B.
Leon was English speaking, and hailed from the Vaal Triangle, as I did. He was a confidant of mine, but we did not work together for long stretches of time.
Leon would show some paranoid-type behaviour, which I think he exaggerated, like he would always turn the taps on in his office if he was going to say anything critical - I think this was to drown the sound ... in case his room was bugged.
Leon seemed to be locked into a strange relationship with Commandant P., and he annoyed other members of his lift club to Johannesburg by making sure that he never left the department before Commandant P. did.
LIEUTENANT FRANCO C.
Franco was on the Border when I started at 1 Mil. I saw his name on his office, and the 'Franco' part of his name suggested a Latin element, and the '[Surname]' suggested English. His room was dark, or my impression of it was, and I expected the mysterious doctor to be small and dark and silent - the sort of person who would scuttle around. Franco was anything but ...! He was tall, with thick curly blond hair. He was the stereotype of the handsome Prussian Officer Cadet - his face slightly fleshy, with a think blond moustache. He brimmed with self-confidence and enthusiasm, and he was brilliant academically, and popular. He seemed to have everything going for him.
He seemed to be completely bilingual, though his family were Afrikaans and he had trained at 'Tukkies'. 'Franco' was a nickname, and '[Surname]' was apparently of Belgian origin. I seldom if ever spoke Afrikaans to Franco; he said that his good English was due to him having mixed in English company as a young child, which had given him 'an ear for the tongue'.
Franco occasionally mixed with the PPC at the Mess (See 'SAMSCLUB'), where he was always a welcome guest. I was very intrigued by him, and tried to learn about other aspects of his life. He was polite but firm about that, telling me; "My private life is just that - private!" Fair enough! But that is difficult for a budding psychologist to accept.
Franco was very academically inclined, and Marius teased him good naturedly about how it was fun to see him figuratively raise a hypothesised diagnosis of the patient, fire a list of questions at the patient before the panel, drop that diagnosis, and test out the next. Franco didn't appreciate this. He was a 'Commandant P.'-Man.
At a barbecue one day at the Officers' Mess, Franco commented on the unique phenomenon of Military Courses. Our Mess, being on the site of the 'SAMS College' was constantly accommodating all sorts of people, including many women, on military courses. Franco suggested he would like to do research on the phenomenon - I wonder if his focus would be on the presumed 'hanky-panky' that occurred.
Franco didn't have much time for Annette, and rallied to my defence on occasions, though I didn't need it. If I had been younger, I might have hero-worshipped Franco. Franco asked me to exercise his car battery while he was on the border, which I was happy to do.
Franco finished his national service at the end of 1986, and started his training to become a Psychiatrist. I'm sure he'll get there without any trouble.
LIEUTENANT WAYNE K.
Wayne was tall and sleek. His role in the department was mysterious; he didn't do much clinical work, and seemed to spend most of his time working for Commandant P. on a DSM-III based personality inventory. He finished national service in mid 1986, but kept reappearing in civilian dress, still working on the Commandant's project. I don't know if anything ever came of it.
Wayne presented a very sophisticated, aloof image. He was very fond of Oscar Wilde, and would quote him often; "These are my opinions. If you don't like them, I have others!" and "There is only one thing worse than being talked about, and that is not being talked about!"
Wayne had apparently had a bad experience during his Border duty. He told me that, it must have been Commandant P. (a different one!), the OC of Sector 10, was a psychopath, and reported that the facilities there were minimal, and that all the facilities that one had to wash with was a hosepipe. I remember him saying that, but I'm not sure that he did his whole tour in Oshakati. Its possible, with his sophisticated tastes, that he had more difficulty adapting to Oshakati that I did.
LIEUTENANT GARY J.
Like Coenraad, Gary was in 'the other Diensgroep' so I never worked with him. He finished and left six months after I arrived.
Jeanie P., then the secretary of Ward 24, had a crush on him, and was quoted as saying that 'Gary was the only man in the department who wasn't Gay'.
Gary was very laid back, and spoke slowly in a deep voice. At one stage he toyed with the idea of joining the permanent force, and he might even have gone along to an interview. He decided against this.
Dolf teased him about being 'too chicken' to join PF, which raised a laugh. The implication was that Gary was unable to cope with the contempt that many people felt towards permanent force members!
LIEUTENANT MANFRED B.
Manfred was of German-Afrikaans origin, and it was he who referred me my first patient at 1 Mil. The patient was not one of my greatest successes.
Manfred was a very pleasant but quiet chap. He seemed to have a run of bad luck, and seemed to spend months hobbling around with one of his feet in plaster.
Manfred had apparently enjoyed doing rally driving as a sport.
THE LATER GENERATION
Midway through 1986, four new doctors arrived at the Psychiatry Department, fresh from basics and officers course. They were 'my generation' almost, in the sense that they had started in the SAMS at the same time that I had, and as it turned out that they left 1 Military hospital at the same time as I did. They finished their National Service, and I was transferred to Natal. The doctors were Clive W., Temlett H., David S. and Leslie G.. The first two tended to be based in the Old Hospital while the latter two were based at the New Hospital.
CANDIDATE OFFICE CLIVE W. (LATER 'LIEUTENANT')
To me, Clive looks very similar to American actor John Ritter, star of the television series 'Three's Company' and 'Hooperman'.
Clive was bright, friendly and cheerful, with a ready smile. He would talk to everyone, and he loved arguing, and usually knows what he is arguing about.
Five years into his medical studies he decided that he didn't want to make his career in medicine. He was so far into the course that he decided to complete his training, and use it as a basis for something that he would prefer to do.
"He is an devout Anglican, and knows the history of the church and the rituals backwards, and enjoys talking about it. He is very tactful in that he never actually preaches or tries to convert anyone. He is becoming a member of the Post Prandial Club (See 'SAMSCLUB') and has been out to dinner with us once already."
Clive's Christian believes had lead him to be involved in church work in the black townships, sometimes in defiance of state regulations. Possibly due to this, Clive remained a Candidate Officer ('CO' - generally considered to be a 'phase' rather than a rank) a long time; possibly while the security people investigated him, or possibly due to bureaucratic inefficiency. ("What? The SADF inefficient? Never!") This was very irritating for Clive, especially as he did his first Border Duty as a candidate officer - who possibly could not be trusted?
In spite of this, Clive actually investigated the possibility of joining the Permanent Force, in which he thought he might become a medical administrator.
Clive was quite a fitness fanatic. He would take himself off jogging around the military streets of Voortrekkerhoogte during lunch times. He would also go to a gym several evenings a week.
Clive and I met up several times on the Border in 1987, and he is mentioned in 'Grensvegter?'. My best visual memory of Clive from that time is of him polishing his Ford Escort and listening to 'The Pet Shop Boys' music.
LIEUTENANT TEMLETT H.
In the 'comparisons to celebrity' mode, Temlett looked very similar to television actor Richard Dean Anderson, who plays the part of 'McIver' in the action TV series of the same name.
Temlett was very clever, and once admitted that he had scored the third highest (?) marks in his matric from the whole of the Cape Province.
"We have 'academic advancement' lectures once a week, and these are usually incredibly boring, and the most amusing thing is sitting watching others drift off to sleep as their eye-lids get heavier and heavier. We have one doctor who is always drifting off to sleep - his name is Temlett. He is amazing, because he can wake straight up from deep sleep, and answer the psychiatrist's request to 'name the thirteen tri-cyclic antidepressants in order of their increasing sedative effects' and get it right!"
Temlett was difficult to get to know socially, and would be vague or misleading when I asked him about himself. I remember him once raving about the film 'The NeverEnding Story' , but I am aware that this might have been some rather obscure way of him teasing me, rather that that he truly believed that it shed light on the human condition. He had his own circle of friends, including Physiotherapist Renier S.. Temlett drove himself around in a clapped out, brush painted orange Ford Escort, which he always seemed to be fixing.
CAMPER DOCTORS
Camper Doctors, people who had finished their national service several years previously, were called up, usually for a month at a time, to assist the department during times of high activity.
Most of the campers we had were registrars, training to be psychiatrists. Most of them seemed not to mind such call-ups, and some of them confessed that 'busy' for the army was 'a holiday' from their normal tremendously busy schedules.
LIEUTENANT LARRY G. (CAMPER)
The camper doctor who made the most lasting impression on me was Larry G.. He was a senior registrar at one of the Johannesburg Hospitals. He had done his national service in the days when the SAMS had been a branch of the ARMY, instead of the separate branch which I was when I served. He wore an army uniform, with his red beret and badge being the only indication that he was a medic.
Larry did two camps during my time at 1 Mil. He was very pleasant and supportive. I was a very cautious Intern during his first camp. He was discussing a patient he had referred to me, he said "It doesn't matter that you are an intern. You've had the most to do with this guy. What do you think we should do with him?" (His confidence in me was fantastic!)
Larry said that he made it a policy never to talk about his patients in the tea room at lunch time ... "unless they are funny."
Larry was about to diagnose someone as 'Fith'. "Haven't you heard of 'Fith'?" he asked in his slow deliberate way of speaking. "Its a diagnosis we use very often at Weskoppies (a Johannesburg Psychiatric hospital). It stands for 'Fucked In The Head'." I know what he means. Since then I've had a couple of FITH cases.
As part of his psychiatry training, Larry had to do research project, and he had chosen to do a project using the MMPI, which is usually seen as a Psychologists' instrument. In the psychology test 'arsenal' (I love the militarization of the word 'cupboard'!) there were old versions of the MMPI, but the scoring stencils had long been lost or stolen. It was from Larry that we borrowed and copied a set of stencils, and 1 Mil's MMPI was back in business again. Larry was great fun. I really enjoyed his company, and I learned a great deal from him. He invited me to visit him at home and meet his wife, but I never got around to doing so. I regret that now.
SOCIAL WORKERS AT THE OLD HOSPITAL
CAPTAIN ANNETTE O. (LATER 'MAJOR')
Annette was a lovely person; warm and very caring. She was considered to be a little long-winded in the background reports she presented at case conferences and panels, and seemed to have difficulty in bringing out the salient facts.
When I first met her, it was days before her school-leaver son had to report for national service. He had ambitions of becoming a paratrooper, for which people have to be very fit on selection. He should have been training like mad, but he took it easy. He didn't get selected for parabat training.
Annette gained notoriety when she made an observation about cattiness amongst histrionic gay patients. "They stab each other in the back!" she said, and wondered why those around her doubled up with laughter. The Afrikaans work for 'stab' ['steek'] has strong sexual connotations!
CAPTAIN P. (Female)
Captain P., like Gary J. and Coenraad G., were in the 'other' psychiatric team, so I never worked with her. She was apparently very efficient, and in Commandant P.'s inner circle. She went along on the training courses on how units should deal with their drug addicts.
Captain P.'s office was across the corridor from mine. She had a little bulging-eyed yappie dog called 'Snoofie', which used to walk around as though it owned the place, and would bark at passing patients. The dog was indulged by Coenraad and Franco who would spend spare time chatting with Captain P.. I disliked the dog, and would have loved to have 'put the boot in'.
I can't remember her first name. She was quiet and moved in different circles. I doubt that we said a hundred words to each other in the entire time we were there.
OTHER STAFF AT THE OLD HOSPITAL
There were a number of other staff at the old hospital with whom I mixed, and whose company I enjoyed, but about whom five years on, I can remember very few anecdotes.
Estelle G. was the secretary of the psychiatry department. No matter how much work she was under, she was always friendly and helpful, and was a highly valued member of the department. Her husband was a colonel in the Air Force.
Jeanie P. was the secretary of Ward 24 when I started, and the secretary of Ward 9 when I left. I had many conversations with her, usually with Dave S..
Laurence T. was an ex-Air Force, Ex-paramedic who was employed in the Department of Psychiatry, mostly to do or co-ordinate Commandant P.'s research project. A doctor started a rumour that he was 'Commandant P.'s spy'. I don't know what use he would have in this role, but the rumour fed the latent paranoia for a while.
Laurence wasn't sure whether he was English or Afrikaans, and suggested that this changed over time, and was largely determined by what company he kept.
I liked him and got on well with him, and he helped me when I had serious trouble with my car.
Karen F. was a staff nurse on Ward 24. I liked her and invited her out on a PPC thrash. There she arranged with Fred (the vet) for him to spay her cat, which we did the next day - me through a bit of a hangover, and the in the car on the journey back to the hospital, the cat woke up and crawled around the car staining both Fred and me with red antiseptic. It might have looked as though we had come out of the ordeal worse than the cat, if this was measured by surface area coloured red!
Sister M. was a staff nurse with whom I got on very well.
Thomas - a clerk
Johann J. was a clerk for the Psychiatry Department, and was a qualified teacher. The SAMS lowest rank was 'Private', the Afrikaans version of which was 'Weerman', which translated back into English as 'Weatherman'. He was nicknamed 'Johann the Weatherman'.
---
Shortcuts to Chapter Four, the `1 Mil' Table of Contents or the Sentinel Projects Home Page.