2001 RETURN TO WALVIS BAY
Photos and captions by Manuel Ferreira
While in Walvis Bay took photos of all ex SADF bases. Apart from the military area in town, all bases are still standing. The last one built in 1990, to house 61 Mech Bde is today used by the NDF.
SADF BOARD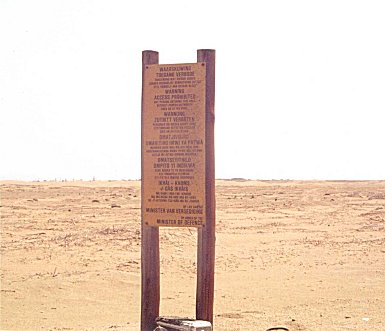 On the road leading to the Navy Bunker, the old SADF board still stands. Asking us to came back? Just getting nostalgic.
WALVIS BAY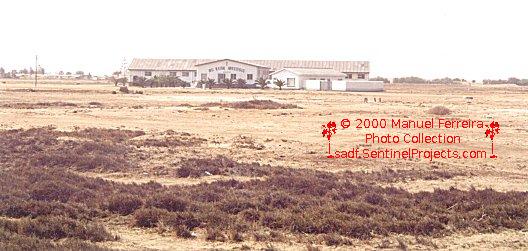 This is all that remains from the very big military area in the town of Wavis Bay. It is giving way for a new suburb. The building that still stands used to be the troops' mess. The officers' mess (next to the ex SAP station), in the main street of Walvis Bay, is now a hostel.
ROOIKOP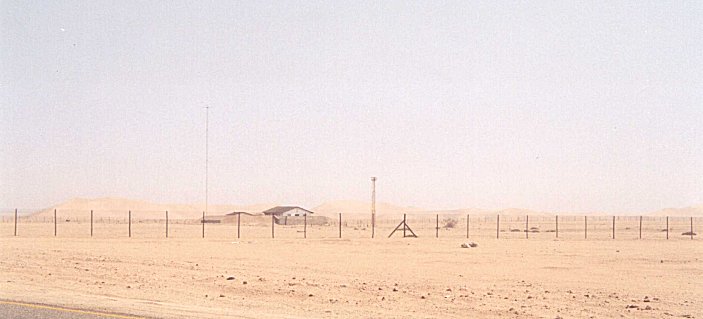 SAAF Comms Bunker at Rooikop. It looks like the clock stopped ticking long ago over here.

The photo (above) is a more detailed enlargement of a part of the photo above it!

AFB Rooikop's barracks. Most windows are broken.
513TP AND 61 MECH BDE.

Monitoring EW Station, built 89/90. Angolan, Cuban, SWAPO and United Nations nets were monitored from there. Lots of Portuguese NSM and Chilean personnel served there. The OC was Capt. John Smith.
In the photo 513 TP bunker is in front of Rooikop Mountain, you can still see the zinc roof on top of bunker, can only see one antenna left. 61 Mech Bde (to the right of the bunker).
Built 89/90 to house the Bde, very big base with big workshops and barracks, in the early nineties base was full of Ratels and tanks. This base was big waste of money by the SADF, Walvis Bay was given over to Namibia and the base today houses the NDF (Namibian Defence Force).
NAVY BUNKER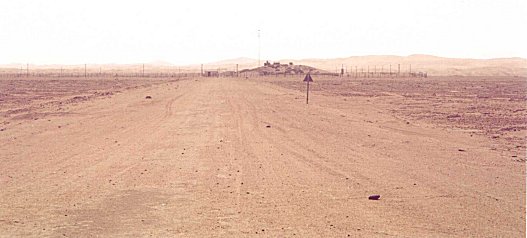 The Navy bunker, at a stage one of the most secret units in the country. It was built to withstand a direct hit from an aircraft, it is also a few floors deep. Photo was taken last week, very few tracks are visible. Did not get any closer to the entrance, as I saw a person at the gate.

The photo (above) is a more detailed enlargement of a part of the photo above it!
OTHER MATERIAL BY MANUEL FERREIRA
Photos: SAMS TC & 1 Military Hospital (1985-1987)
SADF Military Intelligence - (1987 - 1994)
SADF Military Intelligence Directorate
SADF Military Intelligence in the Comoros - (1981-1990s)
South African Military Intelligence in Zaire (1989-1991)
Lt Domingos Jose de Almeida Vinez - 20 December 1988
---
Here is a short cut back to The Sentinel Projects Home Page.